Mystery/Thriller Book Reviews
Page Four of Five
Death of a Dustbunny by Christine T. Jorgensen
Walker & Co., May 1998.
Hardcover, 262 pages.
ISBN: 0802733158.
Ordering information:
Amazon.com.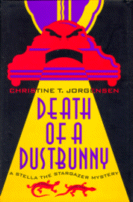 One of the
Denver Daily Orion's
most popular features is the Stella the Stargazer column, where Stella doles out advice to the lovelorn on a weekly basis. When Stella's friend and literacy student Elena Ruiz is late for an appointment, Stella calls Elena's employer, Dustbunnies housekeeping and nanny service only to find that no one has seen Elena around recently. Except, of course, for the young boy she cares for, Jason, who claims Elena was abducted and killed by a vampire one evening in the backyard. Determined to find the missing nanny, Stella goes undercover as Jason's nanny to track down the truth. The truth isn't easy to find; the household where she is staying is full of odd people. The father has an explosive temper, the little boy Steven clearly has psychological troubles and the neighbors are just plain odd. To make it worse, Stella's sometime boyfriend has left town and is acting quite mysterious. Stella will have to use all of her cunning and intelligence to track down a killer -- before he kills again.
Christine Jorgensen has created a quirky and lovable heroine with Stella the Stargazer. With an offbeat sense of humor, an interesting cast of characters and a touch of mysticism,
Death of a Dustbunny
is an enjoyable escape.
---
Emperor Norton's Ghost by Dianne Day
Doubleday, August 1998.
Hardcover, 307 pages.
ISBN: 0385486081.
Ordering information:
Amazon.com.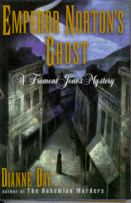 The delightful Fremont Jones is back in this fourth installment of the award-winning historical mystery series by Dianne Day. In 1908 San Francisco, Fremont (née Caroline) is a woman born in the wrong century. Leaving behind a pampered Boston existence she traveled to San Francisco, dropped her feminine first name in favor of the more neutral sounding Fremont and set up shop as a typist. There she met danger, romance and excitement (
See
,
The Strange Files of Fremont Jones
,
Fire and Fog
and
The Bohemian Murders
). After the Great Fire of 1906, the great city is beginning to rebuild itself, so Fremont and love Michael Archer buy a house together and open a detective agency. Fremont's new friend, the pretty and scatterbrained Frances McFadden is a devotee of spiritualism and convinces Fremont to accompany her to a séance. When two prominent mediums are murdered, Fremont is on the case. The trail will take her into the strange world of mesmerism and spiritualism, as she determines to solve the case on her own and to impress Michael that she is ready to be a full-fledged detective.
Fremont Jones is a spirited maverick who fascinates and beguiles as she follows her own path in life, without regards to the dictates of society. With a sometimes gothic atmosphere and a strong dose of steamy romance,
Emperor Norton's Ghost
is Dianne Day's best work yet. The historical details are fascinating, the characters are lively and interesting and the mystery is well-plotted. An entrancing read which will leave readers clamoring for more adventures with Fremont Jones and company. Highly recommended.
--Claire E. White
---
Mystery Reviews
Page One | Page Two | Page Three | Page Four | Page Five

Click Here to Return to the Book Reviews Index




---
More from Writers Write
---