Mystery/Thriller Book Reviews
Page Three of Five
Death at the Crossroads by Dale Furutani
William Morrow, July 1998.
Hardcover, 210 pages.
ISBN: 068815817X.
Ordering information:
Amazon.com.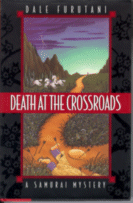 In 1603, Japan is in a state of political chaos and impending civil war. As a result of the many battles, many samurai were left masterless to wander the countryside, looking for employment from a new master. Called ronin, these samurai must learn to live by their wits and their swords. Matsuuama Kaze was a samuari before the death of his Lord and Lady. Before her death, his master's wife obtained his vow that he would not rest until he found the couple's young daughter, who was kidnapped during one of the endless feuds for power. Now a renegade, Matsuyama must roam the countryside searching for the young girl, to fulfill this last obligation to his former employer before he can get on with his life. At the crossroads on the way to the town of Suzaka, he finds a dead body pierced in the back by an arrow with a lowly coal merchant leaning over the body. When the local magistrate ignores Matsuyama's suggestions about the manner of death and sentence the hapless coal merchant to death, Matsuyama decides to investigate himself. Surrounded by a cast of colorful characters, an outlaw gang and a local Lord who may not be what he seems, Matsuyama must use all of his finely-honed skills to ferret out the truth and stay alive.
This is the first in a planned trilogy starring ronin samuari Matsuyama Kaze by the award-winning author of the popular Ken Tanaka mystery series (
See
,
Death in Little Tokyo
,
The Toyotomi Blades
). Brilliant with his sword, wily as a fox and with a subtle and ironic sense of humor, Matsuyama is a compelling character who is impossible not to like. The culture and mores of the era are so different from those of most modern readers that it is a mark of Dale Furutani's great skill as a researcher and as a storyteller that the characters and the society are so vivid and accessible. The writing has a poetic, lyrical quality, especially in the descriptions of the Japanese countryside. A fascinating story which will delight both history lovers and mystery lovers alike. Highly recommended.
--Claire E. White
---
Death of a Dentist by M.C. Beaton
St. Martin's Press, July 1998.
Paperback, 228 pages.
ISBN: 0446606014.
Ordering information:
Amazon.com.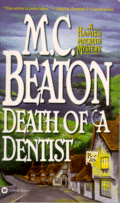 Highlands policeman Hamish Macbeth has a horrible toothache -- so bad, in fact, that he decides to visit the local quack, notorious womanizer Dr. Henry Gilchrist whose cure for any ailment is to simply pull the tooth in question and put in "a nice set of dentures." But when he arrives at the dentist, Macbeth finds the receptionist missing and the much-hated doctor dead on the floor with all of his teeth drilled. Macbeth sets out to investigate with the help of a new female friend (who is an acquaintance of his estranged love Priscilla), who hacks into the local police computer to assist Macbeth, the local soothsayer and a host of Scottish village irregulars.
Death of a Dentist
is Macbeth's 13th outing and his adventures are as readable as ever. Without his on again -- off again love Priscilla, he does just fine investigating the murder on his own. He even finds a new love interest. Another pleasing entry for the numerous fans of this series.
---
Mystery Reviews
Page One | Page Two | Page Three | Page Four | Page Five

Click Here to Return to the Book Reviews Index




---
More from Writers Write
---