Mystery/Thriller Book Reviews
Page Two of Five
A Darker Shade of Crimson by Pamela Thomas-Graham
Simon and Schuster, April 1998.
Hardcover, 286 pages.
ISBN: 0684845261.
Ordering information:
Amazon.com.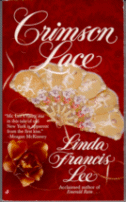 Nikki Chase's academic career is on the fast track -- at 28, she is the only Black professor in the economics department of Harvard University. Her position is sometimes uncomfortable; she feels as an African-American that many faculty and students tolerate, but do not accept her. Her life becomes substantially more complicated one evening when she stumbles over a dead body in a classroom building, one night during a blackout. When the body turns out to be Ella Fisher, the Black dean of students of the Law School, Nikki is plunged into a murder investigation which will lead her to uncover some of Harvard's most deeply buried secrets. If her caseload and a murder investigation aren't enough, her stunningly handsome sometime bad boy former boyfriend decides to move back into town, and back into Nikki's life. It will take all the determination and cunning she has to sort out the emotional chaos which surrounds the murder and her own life.
In her debut novel, Pamela Thomas-Graham is shown to be an exciting new talent which will is a welcome addition to the academic mystery subgenre. Her greatest accomplishment is taking serious and controversial subjects such as what it's like to be Black and female at Harvard and other race issues and seamlessly weaving them into a vastly entertaining mystery novel without sounding descending into self-righteousness. A fun and suspenseful mystery which will leave readers wanting more of amateur sleuth Nikki Chase.
---
Dead Beat and Deadly by Margaret Chittenden
Kensington, August 1998.
Hardcover, 295 pages.
ISBN: 1575663147.
Ordering information:
Amazon.com.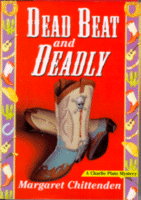 Charming country and western bar owner and sometime amateur sleuth Charlie Plato is back in this third installment of the popular mystery series. Determined to learn how to defend herself, Charlie helps organize a women's self-defense class to be held at Chaps, the country and western bar she owns with former television star and heartthrob Zack Hunter. Charlie is very interested in one of the women in the class, a pretty Filipina who says she can perform miracles with Charlie's untamable, mane of frizzy red hair. But before Charlie can keep her appointment, Estrella is found murdered. Hired by the chief suspect, the husband, Charlie and Zack undertake the investigation which is full of conflicting evidence and a growing sense of menace which could put Charlie smack dab in harm's way.
Dead Beat and Deadly
is a fast-paced, funny and vastly entertaining tale from immensely talented mystery novelist Margaret Chittenden. Charlie is in fine form and the chemistry between her and the irresistible Zack sizzles throughout. The world as seen through Charlie's eyes is guaranteed to coax a smile from even the most dour reader. With snappy dialogue, an intriguing plot and a wonderfully real and sympathetic heroine, this is the best so far in this wonderful series. Highly recommended.
--Claire E. White
---
Mystery Reviews
Page One | Page Two | Page Three | Page Four | Page Five

Click Here to Return to the Book Reviews Index




---
More from Writers Write
---