Murder Under Blue Skies Review
Murder Under Blue Skies
by Willard Scott with Bill Crider
E.P. Dutton, Jan., 1998.
Hardcover, 208 pages.
ISBN: 0525943242.
Ordering information:
Amazon.com.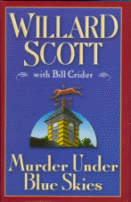 America's favorite weatherman Scott turns his hand to mystery writing with a new cozy series starring Willard's alter-ego, semi-retired weatherman Stanley Waters. Stanley, tired of the hustle and bustle of twenty years as a star weatherman on a national television show retires to his hometown of Higgins, Virginia to open a bed and breakfast called Blue Skies. The gala opening of the bed and breakfast is a hit and is being covered by a national television show. Things are looking pretty sunny for Stanley until one of his guests, Belinda Grimsby, eats a chip with salsa then falls dead -- on national television. Stanley barely remembers Belinda from high school, but some quick research reveals the fact that Belinda was universally despised. She never married, but managed to date every available man in town before her death, many of whom seem to have a motive for murdering the unpleasant Belinda. When Stanley meets up with the local police chief and former flame Marilyn Tunney things begin to heat up in the investigation and in his personal life.
Not all of the residents of Higgins relish the idea of America's weathermeister playing amateur detective and nosing around into the pasts of the townsfolk. In fact, one of them seems quite disturbed by it, as evidenced by the shocking attempt on Stanley's life. Never a quitter, Stanley is determined to find the murderer, especially when suspicion turns to his cook and his general handyman, who are more than just his employees; they are his friends.
Willard Scott and his co-writer Bill Crider have created a delightful new cozy series with an easy style of storytelling. Stanley is a charmer with his determinedly cheerful look on life and his self-deprecating comments. Weather homilies are sprinkled throughout the book ("A rooster's crow at night calls for rain the next day"), adding to the homey atmosphere. Light as a perfect soufflé, down home as peach cobbler,
Murder Under Blue Skies
is a necessary addition to any cozy-lover's collection.
---
More from Writers Write
---