Lora Brody Plugged In by Lora Brody Review
William Morrow & Company, Jan., 1998.
Hardcover, 384 pages.
ISBN: 0688149618.
Ordering information:
Amazon.com.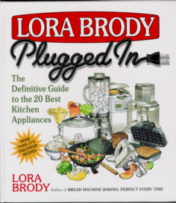 When author Lora Brody decided to write a book about small kitchen appliances, she turned to the Internet for help. She surfed over to her favorite bulletin board and posted a message, "Help, I'm writing a book about small kitchen appliances and need advice about picking the top 20. Anyone have any opinions?" The response was overwhelming: rocket scientists to electronics experts offered their help.
The result was
Plugged In
, a compendium of the 20 best kitchen appliances which every kitchen should have: "the most useful, the most versatile, the sturdiest, the most time and energy saving, and the most apt to deliver good service in proportion to how much they cost."
With easy to follow instructions and more than 375 delicious recipes,
Plugged In
is a handy guide for finding easy to make dishes that are full of flavor and short on preparation time. With extensive explanations and tips on the most efficient use of kitchen appliances to streamline your cooking time,
Plugged In
is an excellent resource which will save you both time and money.
---
More from Writers Write
---