The Lady and the Knight by Lois Greiman Review
Avon, Dec., 1997.
Paperback, 372 pages.
ISBN: 0380794330.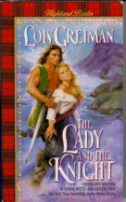 In Scotland in 1509, three cousins make a magical wish upon the Dragonheart amulet. Although the three girls wish for different things they all form a pact to come to each other's aid whenever one is in danger or need. Seven years later, Sara of the Forbes, the eldest of the cousins, is surely in need. A widow, she has gone to live with her cousin Caroline and Caroline's infant son. Caroline is the mistress of the powerful Lord Haldane and the infant is his only heir. On a difficult journey to safety in the Highlands, the group is set upon by vagabonds and all are killed except Sara and the infant. Caroline's dying words make Sara think that the brigands were sent by Lord Haldane, so naturally she is less than thrilled when Sir Boden Blackblade shows up to escort her back to Lord Haldane. But the Knight is insistent upon escorting them. After numerous escape attempts, Sara begins to notice a growing attraction for the handsome Knight who has saved her from many dangers on the journey to Knolltop. As the pair travel towards safety they have many adventures and grow to realize their love for one another. Each torn by honor and duty, they know that they cannot be together because of Haldane's love for Sara -- or can they?
The Lady and the Knight is the first entry in the Highland Brides trilogy which will follow the lives of the three cousins, Sara, Rachel and Shona. A medieval romance with magical elements, this latest effort from Lois Greiman is sure to please lovers of historical romances. With a dashing yet human hero and a spirited and beautiful heroine, the story moves along at a thrilling pace. The romance is steamy and the peek into medieval life adds interest to the tale. Readers will be breathless with anticipation for the next installment in this exciting new series.
Ordering information: Amazon.com.
---
More from Writers Write