George Shrinks by William Joyce Review
George Shrinks
by
William Joyce
HarperFestival, April 1998.
Board Book, 25 pages.
ISBN: 0694011797.
Ordering information:
Amazon.com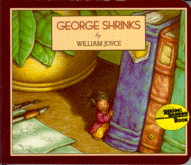 George Shrinks
is the story of George (the middle name of William Joyce's father), a boy who wakes up one morning to find that he has shrunk to the size of his toys (how perfect for a board book format)! His parents have gone for the day leaving him in charge of his baby brother who is now the size of a grownup as compared to George. They also leave a note with a list of chores that George easily could have carried out under normal circumstances, but now present a formidable challenge. Instead of being overwhelmed, though, George takes his new size in stride. With great aplomb and considerable imagination he undertakes his daily routine and his chores. The only thing he needs to watch out for is the family cat that thinks George is now a tasty morsel to be hunted. Of course, the cat's animosity might have something to do with the fact that George dresses his baby brother in Mickey Mouse ears and an elephant nose, stands on his head and scares the cat out of its' wits.
Among the particularly clever maneuvers George dreams up are donning scuba gear to feed the fish, skiing down a dirty plate via sponge to wash the dishes and somehow figuring out a way to climb up into the mail box to check the mail. Luckily enough, he finds a package addressed to him! Gadzooks! It's a swell toy airplane that really works. He just has to give it a spin, but is grounded by an angry not to mention accurate swipe by the cat. Fortunately for George, just as the fearsome feline is about to make the final blow, George miraculously returns to his normal size (again scaring the cat to death), and his parents make a fortuitous return home.
This is the first book William Joyce both illustrated and wrote. The inspiration for the story was a tiny airplane that he found in a box of his old toys. Other real life things he used in the book are his old teddy bear, his desk, a potted plant, and an old electric fan. This is a book everyone should share with a child or other friend. George's shenanigans are all about being a boy taking full advantage of being on his own for a day with a liberal dose of William Joyce wackiness thrown into the mixture. The book doesn't talk down to children with sugary sweetness. Instead it inspires them, even younger readers, to use their own imaginations to think of adventures George could have with all of the other disproportionately sized things Mr. Joyce has included on every page. The illustrations are absolutely hilarious, drawing on Mr. Joyce's own prodigious imagination. What a great idea, too, to have the narrative be in the form of a note left behind by George's unsuspecting parents instead of a more plain vanilla kind of storytelling. As a child, William Joyce loved stories about people who were the wrong size. Fortunately for children and the child in all of us grownups, he retained that love and transformed it into this deliciously entertaining book. (Hint for teachers: When I taught creative writing to children, I used this book as a springboard for them to write their own stories about what it would be like to wake up a different size.)
-
Nancy Littlejohn
---
More from Writers Write