General Fiction Reviews
Lloyd: What Happened by Stanley Bing
Crown, April 1998.
Hardcover, 416 pages.
ISBN: 0517703491.
Ordering information:
Amazon.com.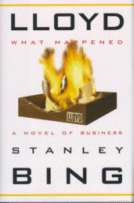 Lloyd is a senior executive in a large corporation. He drinks beer, smokes cigarettes, eats bad food and daydreams constantly to endure the incredible stress of his executive lifestyle. However, the stress becomes insurmountable when the company begins implementation of a major venture which is sure to involve massive downsizing of the corporate body of managers and executives. To make matters worse, Lloyd is put in charge of the project. Lloyd, a married man, finds himself interested in another woman and forced to deal with a psychotic co-worker, troubled bosses, wild personnel changes, and violent forces of nature. The corporate strife and mayhem began to adversely impact his efforts to retain self-respect, his wife and his job.
Lloyd: What Happened
is spiced up with colored pie charts and bar graphs that resemble those found in a company's annual report. These charts, diagrams and graphs, however, describe Lloyd's lifestyle and indulgences: including liquor, fast food, sex, income and personality.
Stanley Bing, who in the past has written on business life in
Esquire
and
Fortune
, has portrayed the executive lifestyle in a manner that is both familiar and oftentimes hilarious.
Lloyd
is an excellent satire of corporate America with all its foibles and one man's journey through the jungle of commerce. Funny and entertaining.
---
Mendel's Dwarf by Simon Mawer
Harmony Books, March 1998.
Hardcover, 293 pages.
ISBN: 0609601067.
Ordering information:
Amazon.com.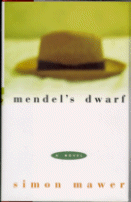 Dr. Benedict Lambert has brilliant intelligence, acclaim in his profession and financial comfort. But what he does not have is what he desires the most: to be a normal man, not a dwarf. Born to two normal sized parents, the great-great-great nephew of the Australian monk Gregor Mendel, the forefather of modern genetics, Dr. Lambert has made his peace with the stares and disgust with which the world treats him, but he can find no peace for his heart -- for Benedict falls in love with Jean, a normal-sized woman in a bad marriage with a husband who beats her and cannot father the child she so desperately wants to have. As he becomes involved with Jean, he will find out many things about life and love and will reach both the heights of ecstasy and the depths of despair as events unfold.
Filled with sorrow, unexpected passion, tenderness and dark humor,
Mendel's Dwarf
is a brilliant and sometimes shocking novel which makes us look closer at our own definitions of normality and deformity and the human love for perfection and beauty. It also serves as a basic treatise on genetic theory with a fascinating presentation of hard cold scientific facts which explain so much of who we are, yet leave so much more unexplained about the nature of humanity. Mawer's creation of Benedict is a flawless portrait of a tortured, complex and, at times, vastly entertaining man whose soul and heart are far bigger than his stature. A compelling and powerful work.
---
Return to Book Reviews Index
---
More from Writers Write