Four to Score by Janet Evanovich Review
St. Martin's Press, July 1998.
Hardcover, 294 pages.
ISBN: 0312185863.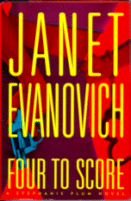 Stephanie Plum fans are in for a treat with her latest adventure. She's on the job for her bail bondsman cousin Vinnie looking for a bail-jumping waitress Maxine Nowicki whose friends all seem to be turning up either severely injured or dead. To make matters worse, her archenemy Joyce Barnhardt, the bimbo she found with her ex-husband in a compromising position one night, is trying to steal her case and after her apartment is burned down, she is forced to move in with ex-love and current complication, vice cop Joe Morelli.
Janet Evanovich continues to write stories that are fresh, funny and immensely appealing. Stephanie Plum has a charm all her own and her running commentary on her life and acquaintances is sure to keep readers in stitches. With a cast of characters who defy convention, such as transvestite rock musician Sally Sweet, ex-hooker and bounty hunter in training Lula and Stephanie's crazy Grandma Mazur who wants to be in on the kill, Four to Score provides a rollicking good time for anyone who likes their mysteries with a dash of panache and healthy does of humor.
--Claire E. White
Ordering information: Amazon.com.
---
More from Writers Write
---