A Conversation With Janet Evanovich
by Claire E. White
Bestselling author
Janet Evanovich
didn't start out as a writer; her first calling was as an artist, and after high school she headed off to Douglass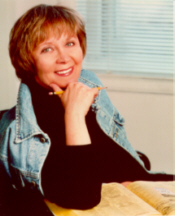 College in New Jersey for four years to study art. But it never felt quite right and she decided to try her hand at writing. After filling a box with rejection letters, she burned the box and signed up with a temp agency. A few months later she received a call from an editor offering to buy her romance manuscript for the astounding sum of $2,000 to be published for the Second Chance at Love series. Thrilled to leave pantyhose and office politics behind her, Evanovich plunged into writing full time, writing series romance for the next five years, mostly for Bantam Loveswept. As a romance writer, she won the Romance Writer's Golden Leaf Award. After 12 romance novels, she decided to move into the mystery genre. Evanovich explains, "I wrote series romance for the next five years. It was a rewarding experience, but after 12 romance novels I ran out of sexual positions and decided to move into the mystery genre." She created a new character, bounty hunter Stephanie Plum, who hails from Trenton, N.J. "I spent two years retooling -- drinking beer with law enforcement types, learning to shoot, practicing cussing," she says.
One for the Money
, the first in her Stephanie Plum series, debuted in 1994 to rave reviews, and Stephanie immediately garnered a following of loyal fans who loved the action, wit and humor for which the books have become known. The film rights to the book were sold to TriStar.
One for the Money
was followed by
Two for the Dough
(Scribner, 1996),
Three to Get Deadly
(Scribner, 1997), and the latest Stephanie Plum adventure,
Four to Score
(St. Martin's Press, 1998). The next Plum book will be published in 1999 by St. Martin's Press and will be called
High Five
.
Inevitably, fans ask Evanovich if she is really Stephanie. The similarities are there; they are both from New Jersey, they both love Cheetos, have owned a hamster, and have shared "similar embarrassing experiences," according to the author. " I wouldn't go so far as to say Stephanie is an autobiographical character, but I will admit to knowing where she lives." She is married, with a son, Peter, and a daughter, Alex, who serves as webmaster for her popular website, where fans can see the latest comics from Alex and enter the contest to name her next book. She now lives outside of Hanover, New Hampshire where she adores the New England lifestyle, but bemoans the lack of a nearby Macy's. Janet spoke with us about how she got her start as an author, how she created Stephanie Plum, and shares some valuable advice with aspiring writers.
What did you like to read when you were growing up?
When I was a kid I read all the Black Stallion books by Walter Farley. Then I'd run around and pretend I was a horse. I did that for years! The other really dominant literary influences on my life were Little Lulu, Betty and Veronica, and Uncle Scrooge.
What led up to the publication of your first romance novel? How did you keep your spirits up until the first book was published?
I have no idea why I continued to write when I received so much rejection (ten years worth!). I suppose it was just too important to me to give up. And probably my ornery disposition kept me going. Throughout it all, my family was very supportive. Mostly I kept my spirits up by blaming everyone else for my failures--stupid agents and blind editors, etc. Did a lot of cussing and drank some beer and ate a lot of chocolate.
How did you make the transition from romance novelist to mystery author?
I took a year off and did a lot of reading and watched a lot of movies. Analyzed the mystery structure as opposed to the romance structure. Got a new agent. Made lists of elements I wanted to incorporate into my new project. Chose a hero-heroine formula (right out of the Regency romance).
Which genre do you prefer writing in: romance or mystery?
I prefer mystery for structural reasons. I like writing in first person and it's more accepted in mystery. I write with a lot of humor and I think humor can get tedious so I prefer a short book, and again, this is more accepted in mystery. I prefer writing action to relationship, because I suck at internal narrative. I have more freedom of language with mystery. Okay, so I have a trash mouth. I'm from Jersey, what can I say.
How has the publishing industry changed since you submitted your first manuscript?
It's condensed. There were lots of places for authors to submit books when I started. It's getting a little scary out there now.
How did Stephanie Plum come into being?
If Mickey Spillane wrote Archie and Veronica, Stephanie would be Betty. I got the idea for a bounty hunter while watching
Midnight Run
with Grodin and DeNiro. I created the Stephanie character from my experience as a romance writer, relying heavily on the Original Heroine of the Regency--and I gave her some of my history.
How do you feel Stephanie has changed since the first book?
Stephanie is becoming a better bounty hunter. And she's not so repressed sexually.
I'd like to talk about the latest book in the Stephanie Plum series, Four to Score. What was your inspiration for this story?
Inspiration for all my books is always the same. Big mortgage.
In Four to Score, Stephanie's relationship with cop Joe Morelli heats up a bit. How do you feel about the protagonist being in a permanent relationship? Would it cramp her style?
I don't want to tie Stephanie down to Morelli yet. Maybe some day, but certainly not for several more books. Not sure if it would cramp Stephanie's style, but it would definitely cramp mine!
What kinds of things did you do to prepare for writing a series about a bounty hunter? How did you find out about the things Stephanie has to know, like police procedure, how bounty hunters operate etc. ?
I was living in Northern Virginia when I started the series. I went to the Yellow Pages and looked up Bailbondsmen, called some and got the names of a couple Bail Enforcement Agents. I hung out with these guys and tried to see what they did and who they were and what kind of equipment they carried. I did the same with the Trenton police. I also went to a gun shop and took some shooting leasons.
One of the best aspects of the Stephanie Plum series is the wonderful characters, like Grandma Mazur. How did you create Grandma Mazur? Do you think you'll have her spunk when you get to be her age (in the FAR distant future)?
Grandma Mazur is a combination of my Aunt Lena and my Grandma Schneider. And I suppose I'm projecting some of myself in her too. When I grow up I want to be Grandma Mazur.
What things do you and Stephanie have in common?
Stephanie and I share a lot of history. I learned to drive on the '53 powder blue Buick. And Stephanie and I often react the same.
In Four to Score we meet another hilarious character, Sally Sweet. Will Sally be around in the future?
Sally will return, but not in book five.
Four to Score has some pretty hot love scenes. Do you like writing love scenes? Do you find them harder or easier to write than, say, an action scene?
I never enjoyed writing the love scenes as a romance writer. I suppose because the attitude was different. More serious somehow. More romantic. I had lots of fun writing the love scenes in
Four to Score
. I think the love scenes in
Four to Score
were action scenes...more adventurous than romantic.
Do you have any special writing routines?
When I'm in a book I like to keep the momentum going, so I
"I prefer mystery for structural reasons. I like writing in first person and it's more accepted in mystery. I write with a lot of humor and I think humor can get tedious so I prefer a short book, and again, this is more accepted in mystery. I prefer writing action to relationship, because I suck at internal narrative. I have more freedom of language with mystery."
usually work an eight hour day, five days a week. And then on weekends I do a four hour day. I have breakfast with my husband, walk the dog, and am at my computer by eight. I take an hour or two out in the middle of the day for excercise (usually at the gym) and then I work through the afternoon. Five days a week I work evenings doing mail and having phone meetings with my webmaster daughter, Alex.
How did you learn to write dialogue?
I learned to write dialogue by getting up on a stage and doing improv acting.
How much feedback do you get from your fans? Does fan feedback influence you in any way?
Because of the website I get a LOT of feedback from my fans, and I take it very seriously. That's one of the great things about the site.
What advice do you have for aspiring writers who are feeling frustrated about landing that first publishing contract?
Never give up. Only YES counts. And get smart. Be analytical. Be practical. Be flexible. Eat a lot of Cheetos and chocolate and drink some beer.
What is the strangest thing that's happened to you on a book tour?
I haven't actually had a lot of strange things happen to me on tour. It's always interesting when I'm in Dallas or Chicago or Scottsdale and someone unexpectedly shows up who used to sit behind me in Algebra in high school. I've stayed in a few hotels that were so bizarre I slept in my clothes all night. I had a signing once where no one came and when I got to the store it was closed. Alex was with me and we decided we needed to cheer ourselves up, so we kept the stretch limo for the night. We had the driver take us shopping at Tower Records and then we went to a bakery and got a couple cakes (one for the limo driver) and then we topped the night off at a bar. It was definitely one of my better signings.
What books are on your nightstand right now?
With This Ring
by Amanda Quick. I've been trying to read it for months and haven't had the time. I've just finished the edits on
High Five
and will finally be able to get to read for fun.
What is your idea of the perfect vacation?
Staying home!
What's on your Christmas Wish List for this year?
"If Mickey Spillane wrote Archie and Veronica, Stephanie would be Betty."
We moved into a new house three years ago, and we're still furnishing it, so I like to get household things. Last year I got a Shaker tall clock. This year I'm hoping for some Simon Pearce glassware. I like to get things that are made by local craftsmen.
What projects are you working on now?
I just finished the fifth book in the Plum series. I'll take a couple weeks off to regroup, and then I'll start book six.
---
More from Writers Write