Fantasy/SF Book Reviews
Page Two of Two
The Vampire Armand by Anne Rice
Knopf, 1998.
Hardcover, 388 pages.
ISBN: 0679454470.
Ordering information:
Amazon.com.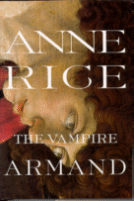 For years readers have been wanting to know the story of the beautiful young vampire, Armand, who first appeared in
Interview With a Vampire
, and was played by Antonio Banderas in the film version of the book. What lies behind the Botticelli angel-like face of the vampire who seems almost sociopathic at times? (Remember what he did to Claudia in
Interview
). His story makes sense of the contradictions that the character displays in the other books. The tale begins in the 15th century, when Armand was 16 years old, in Kiev Rus, a ruined city under Mongol rule. Working in a monastery, Armand develops a strong faith in God, which is to comfort and torment him throughout his life. Armand is kidnapped and eventually sold to the wealthy Venetian vampire Marius, who masquerades as a human by taking on the identity of a reclusive painter. The story follows Armand's transformation into a vampire, his relationship with Marius, his leader of an evil coven in Europe, his time with the Théâtre des Vampires through the present day, and his experiences detailed in
Memnoch the Devil
.
The Vampire Armand
is a lengthy, complex, rich tapestry of a tortured and exotic life. As usual, Rice's historical descriptions are beyond reproach; her depiction of Venice during the Renaissance is incredibly rich and detailed. Armand enjoyed all the sensual pleasures that Venice had to offer: fabulous clothing, wine, gourmet food (until he became a vampire) and several steamy heterosexual and homosexual liaisons. But he could never escape the feeling that something was missing in his life: an all-too-human theme. An engrossing tale which Rice fans will relish.
---
Storm of the Century by Stephen King
Pocket Books, Feb., 1999.
Trade Paperback, 376 pages.
ISBN: 067103264X.
Ordering information:
Amazon.com.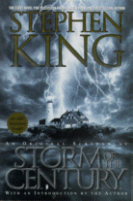 In Little Tall Island, a small Island town off the state of Maine, the townspeople are preparing for what is being billed as the
Storm of the Century
with snow accumulation that could exceed five feet and furious hurricane force winds. With preparations for the upcoming storm running down to the wire, Sheriff Mike Anderson already has enough on his hands when a new problem arises. An elderly local, Martha Clarendon is violently beaten to death with a cane by a stranger who has arrived in town. When Davey, a young boy discovers the body and Linoge, the murderer, still in the house he runs for help. Robbie Beals, an unpleasant real estate agent, goes to investigate. Linoge surprises him by knowing his name and his darkest secret -- that he was with a prostitute on the night his mother died. Robbie flees in terror and calls for the Sheriff. When Sheriff Mike Anderson and Officer Alton Hatcher arrive on the scene Linoge is quiet and subdued, and allows Anderson to handcuff him and take him in. However, there is something abnormal about Linoge (other than the fact that he is a crazy murderer) and his arrival seems much more frightening then the approaching ferocious storm.
This is the original screenplay of
Storm of the Century
which was written for television and shown on ABC. However, after a few pages of reading the screenplay it begins to read like a novel. The screenplay contains all the elements of King's best work: small town, Maine, shocking horror elements, great characters and an exciting storyline. These elements combined with the monster storm add up to another excellent Stephen King tale. Budding screenwriters shouldn't miss this chance to read a King original.
---
Fantasy Reviews
Page One | Page Two

Return to Book Reviews Index




---
More from Writers Write
---