Fantasy/SF Book Reviews
Page One of Two
The Physiognomy by Jeffrey Ford
Eos, 1998.
Paperback, 244 pages.
ISBN: 0380793326.
Ordering information:
Amazon.com.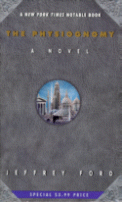 The Well-Built City is ruled by a mysterious, powerful and utterly evil overlord known as Drachton Below. Cley, a favorite of Drachton Below, is a famous physiognomist who, following the science of physiognomy, can determine a person's personality, criminal tendencies, future prospects and darkest secrets merely by observing and measuring the unfortunate subject's appearance. Too long a nose, with a chin that is a millimeter off-center? Clearly, the man is a depraved criminal. Cley is sent to a rural town to investigate the theft of a magical fruit found in a tomb. The fruit is said to grant immortality and Drachton Below wants that fruit. Cley sets out on a journey which will have profound effects on his life and the future of the Well-Built City when he finds some nasty secrets which Drachton would prefer remain hidden.
Part fantasy, part SF, part literary novel,
Physiognomy
won the 1998 World Fantasy Award, and it is easy to see why. In a stunning debut, author Jeffrey Ford has concocted a complex tale which explores the fight between good and evil and science and religion (and science AS religion) which is absolutely enthralling to read. Cley himself is an unbelievably arrogant narrator who is as repellant as he is unintentionally amusing. But there is more to Cley than meets the eye, and his character evolves in unusual ways before the story's end. An outstanding novel. Highly Recommended.
---
The Rivan Codex by David and Leigh Eddings
Del Ray, 1998.
Hardcover, 394 pages.
ISBN: 0345424026.
Ordering information:
Amazon.com.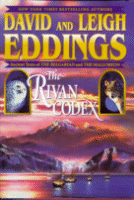 Over twenty years ago, David Eddings doodled a map of a strange country. Little did he know that it would be the starting point for the two fantastically popular fantasy series:
The Belgariad
and
The Malloreon
.
The Rivan Codex
is a collection of the extensive background materials which make up the world created by David and Leigh Eddings.
The Rivan Codex
includes a fascinating introduction by David Eddings, information about how the Eddings' created the world used in
The Belgariad
and
The Malloreon
, the holy books of the major cultures of both series, geographical information, background and history of the characters, and wonderful illustrations by Geoff Taylor. Maps are also included, as well as interesting footnotes about how the authors used these materials and changed them during the actual writing of the books. A must-read for fans of
The Belgariad
and
The Malloreon
.
---
Fantasy Reviews
Page One | Page Two

Return to Book Reviews Index




---
More from Writers Write
---