Eat This Too! by Dom DeLuise Review
Pocket Books, Dec., 1997.
Hardcover, 250 pages.
ISBN: 067100431X
Ordering information:
Amazon.com.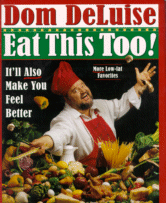 Popular comedian, author and chef Dom DeLuise is back with a follow up cookbook to his smash hit
Eat This, It Will Make You Feel Better
.
Eat This Too
is a collection of low-fat recipes modified from De Luise's childhood favorites and favorites from his many celebrity friends. Filled with photos of De Luise, his family and famous friends,
Eat This Too
reads as a fun-filled memoir worth reading, even if it wasn't filled with delicious, low-fat recipes.
Many of the recipes are Italian in origin (in fact the book is dedicated to De Luise's immigrant mother, Vincenza) but the book covers everything from traditional Jewish favorites such as Matzo Brei to Sugar Free Apple pie. Written in an entertaining and breezy style with easy to follow instructions and lots of photographs,
Eat This Too
is a welcome addition to your recipe book collection.
---
More from Writers Write
---