Dinosaur Bob by William Joyce Review
Dinosaur Bob
by
William Joyce
, author and illustrator
HarperFestival, April 1998.
Board Book, 24 pages.
ISBN: 0694011789.
Ordering information:
Amazon.com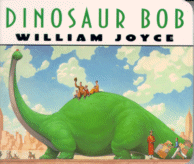 William Joyce is exactly the kind of person most people think of when they think of children's book authors/illustrators: witty, charming, unassuming and imaginative. He also had what has to have been one of the wackiest childhoods ever since, by his own admission, much of what he includes in his books really happened or existed. When I first heard him speak, I spent most of the time in stitches because I think I had a similar upbringing, loving but crazy with a lot of time watching old movies and television. I felt an instant kinship. While his books are written for and loved by children, there are also subtle nuances in them that only adults can understand and appreciate, especially adults who love the culture of the thirties, forties and fifties. Of course, it has always been my philosophy that a truly good children's book is a truly good grownup's book, too. After all, the original
Dinosaur Bob
is dedicated to Nick and Nora Charles and King Kong.
That is why when I first saw
Dinosaur Bob
had been turned into a board book I was a bit dismayed. How could toddlers possibly understand the wit and satire of the story of the Lazardo family and Bob not to mention the fact that the original book is rather long? Not to worry. Joyce has completely adapted Bob's story to suit the toddler set, great admirers of dinosaurs most of whom can say brachiosaurus before cat.
We meet the Lazardos on the first page, an obviously happy family. Haven't we all yearned for a pet dinosaur at one time or another (Mr. Joyce did), and the Lazardo family is no exception. Since they love to travel, too, they set off to find a dino in their jaunty yellow roadster. Sure enough, Scotty Lazardo manages to catch one in Africa (actually Scotty shows up in camp dangling merrily from the giant dino's neck by the rope used to catch him), and they name their new pet Bob. Bob is extremely talented and tons of fun. He can eat four hundred chocolate cakes and seven thousand hotdogs! (Have you ever noticed how small children delight in hyperbole?) The Lazardos triumphantly return home on Bob's back with Dad Lazardo cheerfully doffing his hat. Bob is an instant hit in their hometown, Pimlico Hills. The book has a perfect ending as it re-introduces the Lazardo family, this time including Bob the big green dinosaur.
There's lots for kids to love about
Dinosaur Bob
: colorful, unusual (for children) illustrations; a good story; a dinosaur; lots of tiny detail to examine; a close, adventuresome family and a cozy ending. I predict this will become an instant favorite to be toted everywhere. Good thing it's a board book, isn't it?
-
Nancy Littlejohn
---
More from Writers Write