Death Dines Out by Claudia Bishop Review
Berkley, Dec., 1997.
Paperback, 235 pages.
ISBN: 0425161110.
Ordering information:
Amazon.com.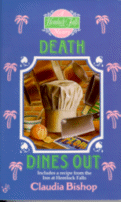 The Quilliam sisters of Hemlock Falls are back in another adventure. This time innkeeper Sarah and master chef Margaret are called to Palm Beach by socialite Tiffany Taylor, the ex-wife of the fourth largest real estate developer in America. In exchange for first class tickets and accommodations, the Quilliams will help Tiffany with her week-long event to benefit her charity for phobic women by teaching classes at the renowned Florida Institute of Fine Food. The final banquet will be a chance for Meg to show her stuff and perhaps regain her third star from
L'Aperitif Magazine
. This generous offer to escape snowy New York seems too good to be true -- and it is. The Quilliams have barely arrived when they receive a threatening video from real estate magnate Verger Taylor who threatens the Quilliams with financial ruin unless they withdraw from his ex-wife's so-called charity event, which turns out to benefit women who have a phobia about marrying for money. Verger naturally views the event as an attempt by Tiffany to discredit him by having a bunch of women he's wronged talk about him on national TV. When Verger disappears from his palatial mansion and his sons are the prime suspects, the Quilliams have their work cut out for them. They must solve the mystery of the disappearance in order to avoid the wrath of the boys' mother, Verger's first wife, an American icon beloved to the public who could ruin the Quilliams socially and financially.
The fifth installment in the Hemlock Falls series is a madcap cozy with a gourmet flavor. The interplay between the Quilliam sisters is always entertaining and the larger than life characters of Verger Taylor, his various ex-wives and the cream of Palm Beach society are wickedly funny. A delicious whodunit.
---
More from Writers Write
---