Cosm by Gregory Benford Review
Eos, Feb., 1998.
Hardcover, 344 pages.
ISBN: 0380974355.
Ordering information:
Amazon.com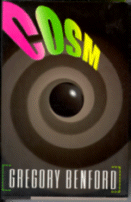 Alicia Butterworth, a brilliant black physicist who has a slight weight problem and a non-existent social life, makes a remarkable discovery during a high-energy physics experiment attempting to recreate the conditions present before the Big Bang which began our universe. As a result of an accident from an experiment which damaged the collider, an unusual metallic-like sphere has formed. Suspecting that the sphere may provide insight into what went wrong, she sneaks the sphere out of the lab. Against her best friend's wishes, who wants her to spend her time checking out the local singles' scene, she and her students begin to study the object which has unusual physical properties. With the help of a colleague, Max Jalon, she discovers that the sphere may be a window into another universe which is developing at ever-increasing rate, which could provide fascinating information about the formation and nature of our own Universe. But when a freak accident occurs in the lab and word about the strange object gets picked up in the media, the race is on to find out its secrets before the government, the University or the press can take control of the project. In addition to the stresses of the project, Alicia and Max must contend with their growing attraction for one another.
Cosm
is a compelling adventure into the unknown with exciting details and insight into the development of our solar system and Universe. Gregory Benford, author and professor of physics at the University of California at Irvine, has crafted a winning tale that is appealing both for its skillful presentation of complex scientific theories and a compelling human interest story.
---
More from Writers Write