Computer Book Reviews
Page One of Two
Advanced ColdFusion 4.0 by Ben Forta
Que, January 1999.
Trade Paperback, 730 pages.
ISBN: 0789718103
Ordering Information:
Amazon.com.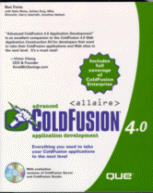 Advanced ColdFusion 4.0
covers new and advanced features available in ColdFusion. The book provides instruction, example code, screenshots and case studies to illustrate these new concepts which include: monitoring server performance, scaling, clustering, security options, NOS security, custom tags, CFX tags, extending ColdFusion with COM/DCOM, Corba, customizing ColdFusion, ColdFusion scripting, the WDDX format, structured error handling, regular expressions and intelligent agents. Appendices to the book provides References on ColdFusion tags and functions, VTML, WIZML and the WDDX.dtd files. The accompanying CD-ROM includes: evaluation versions of ColdFusion, code listings from the book, and third-party software tools.
With this release author Ben Forta, an Internet developer who also conducts ColdFusion seminars, has provided an excellent extension of his previous book
The ColdFusion 4.0 Web Application Construction Kit
(an introductory ColdFusion reference). Web developers who like developing and working with Cold Fusion applications will discover lots of new information and tools in this release. Recommended for programmers who have some prior experience with ColdFusion.
---
The Complete Small Business Internet Guide by Tom and Lori Heatherington
Que, September 1998.
Trade Paperback, 272 pages.
ISBN: 0789718308
Ordering information:
Amazon.com.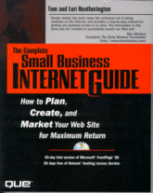 These days, launching a website requires a great deal of effort and specialized knowledge about web hosts, web design, content, marketing and numerous other issues.
The Complete Small Business Internet Guide
helps to demystify this complicated process with information about how to put a business online, how to create a web business and how to market products and services on the Web. The book covers numerous internet business subjects including: e-commerce, push technology, internet marketing, web advertising, email marketing, Internet connections, modems, domain names, online communication, website design, Microsoft FrontPage, copyrights, trademarks, linking, creating online stores and website submission. The book also contains web addresses to online resources that contain more information on these topics. In addition, the book contains a valuable glossary of "geek speak" containing hundreds of definitions of technical words. The accompanying CD-ROM contains a trial version of Microsoft FrontPage and thirty days free web hosting with Netcom.
This resource is an excellent introduction to internet business and web marketing concepts, teaching readers how to use this knowledge to get a business online and effectively promote and sell products or services. The web design sections of the book concentrate on using Microsoft FrontPage and working with Microsoft Office software, so Windows 95 or 98 is recommended. A valuable resource for companies ready to make the move online, or for those considering a launch of a new web business.
---
Click Here For Computer/Web Design Book Reviews Page Two
Return to Book Reviews Index
---
More from Writers Write