Computer Book Reviews
Page Two of Two
Java 1.2 Class Libraries Unleashed by Krishna Sankar
Sams, January 1999.
Trade Paperback, 1244 pages.
ISBN: 078971292X
Ordering information:
Amazon.com.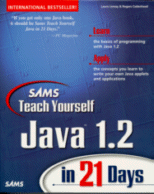 This reference on Java coding provides instruction, programming tips, descriptions of Java classes and examples of code for numerous Java class libraries and packages. Java coding covered in the book includes: Math, applets, JFC, Microsoft AFC, API's, server and servelts, security, signed applets, utilities, JavaBeans and many others. Information in the book is well-organized by class names and class libraries for quick referencing. An enclosed CD-ROM includes third-party java tools. With its comprehensive collection of Java code,
Java 1.2 Class Libraries
is a must-have reference for Java programmers. Recommended for intermediate to advanced Java coders.
---
The Lycos Personal Internet Guide by Michael Miller.
Que, January 1999.
Trade Paperback, 258 pages.
ISBN: 0789718316
Ordering information:
Amazon.com.
The Lycos Personal Internet Guide
is a reference for web novices which provides instruction on how to get connected to the Internet, instruction on basic internet concepts, information on some of the best websites and how to find them and how to get the most out the Lycos Network. Some web concepts addressed in the book include: finding an internet service provider, web surfing, Internet Explorer, Netscape, searching the web, shopping online, email, chat and message boards. The book also lists websites for several categories including: software downloads, business, news, weather, sports, stocks, finances and careers. A useful introduction to the Web and the Lycos Network for beginners.
---
The PC Dads Guide to Becoming a Computer-Smart Parent by Mark Ivey and Ralph Bond.
Dell Publishing, February 1999.
Trade Paperback, 322 pages.
ISBN: 0440508436
Ordering information:
Amazon.com.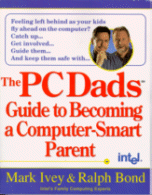 This computer reference is targeted at parents who find themselves in uncomfortable situations in which their young daughter or son has more PC knowledge and experience than they do. The book covers topics such as: habits of computer-smart parents, buying a PC, upgrading PCs, buying software, internet basics, internet communication, using the PC for education, introducing technology to your children, educational software, violent games, making cyberspace safe and future computer developments. The instruction provided by the PC Dads, Mark Ivey and Ralph Bond, (two computer-savvy parents who work at Intel) is easy to comprehend and entertaining. Through the book the PC Dads include features such as The PC Dads list of seven "must-know" PC terms, five ways to make your PC "kid-friendly" and occasional anecdotes from experiences with their own children.
PC Dads
provides computer concepts in non-technical language and information and guidelines on how to apply these concepts to introduce technology to your children and monitor their use of it. An excellent guide for parents who want to be able to keep up with the new technology that their children are able to grasp so effortlessly.
---
Click Here For Computer/Web Design Book Reviews Page One
Return to Book Reviews Index
---
More from Writers Write