Children's Book Reviews
Page Two of Three
The Halloween Play by Felicia Bond
Laura Geringer Books, August 1999.
Picture Book, 32 pages
Reading Level: Ages 3-6
ISBN: 0060286849.
Ordering information:
Amazon.com.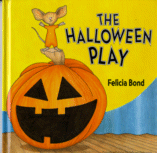 Originally published in 1983 under the title,
The Halloween Performance
, this charming tale from Felicia Bond (
If You Give a Pig a Pancake
,
et al
.) has been re-released with new artwork.
The Halloween Play
tells the story of a tiny mouse named Roger who is sitting backstage waiting for his one line in the school play. He's practiced for days to get his line right. "On the night of the performance the auditorium was packed. Roger stood backstage. He had a small but important role." The accompanying illustration shows Roger waiting off-stage as other mice dressed in Halloween costumes get ready to go on stage. Finally, it's Roger's turn...he's the Jack O' Lantern! The mice dance around the Halloween pumpkin, the "audience applauded wildly." The play is a resounding success. Roger's father took a picture of him in his costume. But as he goes to sleep that night, Roger thinks that he doesn't need a picture to remember his triumph.
The talented Felicia Bond has written a classic story which has been reissued in time for this Halloween. The illustrations are bright and funny, showing the nervous mouse Roger waiting backstage, counting down the lines until his big entrance as the pumpkin (a small but very important part.) Her portraits are alive with movement and the perspective is always complementary to the story they illustrate. Another sure winner from the talented Felicia Bond.
---
Nightmare Hour by R.L. Stine
HarperCollins, August 1999.
Hardcover, 148 pages
ISBN: 0060286881.
Ordering information:
Amazon.com.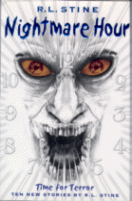 Bestselling frightmaster R.L. Stine (
Goosebumps
) is back with a collection of 10 short stories which are sure to scare the pants off you just in time for Halloween. In "Pumpkinhead" some children find out that when the pumpkin farmer tells you to stay out of his special, private pumpkin patch you ought to pay attention. In "Alien Candy," an unhappy schoolboy learns that there may be more to his new clique than he bargained for, and the story "Afraid of Clowns" only confirms what some of us have thought all along anyway. "I'm Not Martin" is enough to make anyone think twice about checking into a hospital for surgery around Halloween. Stine plays brilliantly on every child's
real
fear -- that if something strange were to really happen (oh, like a werewolf attacking you when your mom is away) the adults will never believe you. Each short story is illustrated with creepy pictures by a different, talented artist such as Bleu Terrell or Cliff Nielsen. Another interesting feature is the introduction to each story is penned by the author in which he describes his inspiration for the story. Although some of the stories are a scarier than others, they are all pretty disturbing. Teenagers who love horror should simply adore this latest Stine entry -- and don't be surprised if you find Dad sneaking a peek, as well.
---
Children's Book Reviews
Page One | Page Two | Page Three

Return to Book Reviews Index





---
More from Writers Write