Children's Book Reviews
Page Three of Three
On Halloween by Lark Carrier
HarperFestival, August 1999.
Picture Book, 40 pages
ISBN: 0694012920.
Ordering information:
Amazon.com.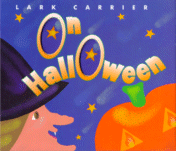 Talented artist Lark Carrier has crafted a charming Halloween gem with
On Halloween
. The story begins with, " On Halloween/We treat you to a fright.../We go boo in the night/." The rhymes are coupled with fabulously colorful illustrations of ghosts, with the eyes cut out so that you can see to the page behind. The rhyme continues with "We glow with jagged light," illustrated by the flames in the jack-o-lanterns, with the eyes cut out so that you can see the flames behind them. The rhyme continues with bones of the skeleton, witches and bats in flight, cats...and those who gobble every bite. The last two pages is a mural of all the creatures that have been seen before, and it is revealed that all the scary creatures and things in the books were nothing to be scared of at all -- they are really children in Halloween masks. Carrier's illustrations are bright, bold and evoke a sense of wonder. An excellent book for reading with children during the weeks leading up to Halloween.
---
The Teeny, Tiny Ghost by Kay Winters, Illustrated by Lynn Munsinger
Trophy books, August 1999.
Paperback Picture Book
Reading Level: Ages 3 - 8
ISBN: 0064435903.
Ordering information:
Amazon.com.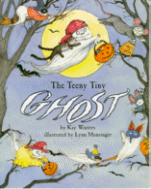 The teeny, tiny ghost has big problems. He's quite timid. Every day he goes off to haunting school to learn how to be a proper ghost. He assiduously pratices booing and whooing, but he ends up scaring himself silly. Halloween is fast approaching, but to the teeny, tiny ghost it just sounds terrifying. Then, one night when he is all alone, with just his two teeny, tiny cats for company, some really loud voices call out to let them in and he hears a loud banging at the door. The teeny, tiny ghost tries to hide, but the voices grow louder. So he screws up his courage and, "He booed, and he whooed, till he felt very bold. He howwwwwled, and then he yowwwwwled, and he sounded very loud." The next thing he hears is clapping and cheering. It is Halloween night and all the ghosts are so proud of the teeny, tiny ghost for being a proper ghoul! Then all the ghosts dress up and go out to celebrate Halloween in style.
The Teeny, Tiny Ghost
is a marvelous tale of a ghost who is a little scarier looking than Casper, but still fairly non-threatening. All children will relate to the difficulty of learning tasks at school and longing to fit in. Lynn Munsinger's illustrations are vivid and appealing, with just the right touch of spookiness.
The Teeny, Tiny Ghost
is sure to appeal to very young readers, as will the repetitive, alliterative prose. Snap this one up for a fun Halloween read with your child.
---
Children's Book Reviews
Page One | Page Two | Page Three

Return to Book Reviews Index





---
More from Writers Write