Children's Book Reviews
The Internet Writing Journal
By Nancy Littlejohn
If You Give a Pig a Pancake by Laura Numeroff, Illustrated by Felicia Bond
HarperCollins, May 1998.
Picture Book, 29 pages.
ISBN: 0060266864.
Ordering information:
Amazon.com.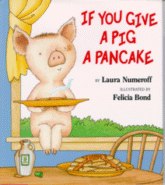 Pigs are hungry. Pigs are messy. Pigs are
cute
, especially the one in
If You Give a Pig a Pancake
. Yessirree, Laura Numeroff and Felicia Bond have gone to the County Fair with this prize pig and won a Blue Ribbon. This latest addition to their classic menagerie of books,
If You Give a Mouse a Cookie
and
If You Give A Moose a Muffin
certainly maintains the high standards of hilarity set in their two previous collaborations.
We are introduced to this precious little porker on the title page as she is strolling along with her bandanna on a stick. She must get a whiff of something yummy, because the next picture shows her with bandanna abandoned while she totters on a tower of clay pots peering in a window. When she pokes in her snout in for a better smell of pancakes hot off the griddle, of course, the little girl inside offers the hungry little piggy a pancake. Of course, we all know that pancakes have to have some maple syrup. Of course, being a pig means that she'll get all sticky, which means, of course, she'll want to take a bath with lots of bubbles…and a toy. While the little girl's back is turned trying to find a toy, of course, the pig being a pig is making a mess with the bubbles. Of course, this being a Numeroff/Bond story, the little girl and the pig continue making messes and getting out of them and moving on to their next (mis)adventure with great glee and aplomb as chaos ensues. Of course, since this is a circular story it ends
almost
as it began except the little girl is asleep on her kitchen table amidst the shambles of her house with the pig gleefully sitting on top of the table clutching the maple syrup jar. And chances are if she asks you for some syrup, she'll want a pancake to go with it.
This is a delicious story that all children (and the adults who read it to them) will have memorized after one or two readings at most. That's the point of circular stories. No matter how many times (and I predict at least a zillion) it's read everyone will have fun predicting what the pig will want or do next. And what a pig! She's daring, fun and imaginative thanks to Numeroff. Her facial expressions are priceless, especially when she's riding on the stack of mail. Bond's illustrations are simple yet filled with tongue-in-cheek humor and detail. It's in the best spirit of children's book illustrating because each picture has something to capture and hold the attention of many different ages of children as well as adults. Numeroff captures this spirit as well. They entertain children while not patronizing them with pablum. Since this book is hilarious and literate it will probably join
If You Give a Mouse a Cookie
and
If you Give a Moose a Muffin
in becoming an instant classic. And chances are if a book is worthy of becoming an instant classic then you will need to remember this rule of thumb: always buy books for your children that you enjoy, too, because, of course, you will probably find yourself reading them over and over again. With delight!
--Nancy Littlejohn
---
Little Girl in a Red Dress with Cat and Dog Story by Nicholas B.A. Nicholson, Paintings by Cynthia Von Buhler
Viking, Feb., 1998.
Picture Book, 29 pages.
ISBN: 0670871834.
Ordering information:
Amazon.com.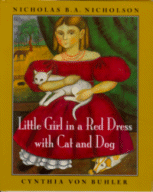 Once upon a time there was a very lively little girl. Everyone in her family was always very busy and didn't have time to play with the very lively little girl. Her father was very busy in his office paying bills so he sent her to her mother. Her mother was very busy in the parlor entertaining ladies so she sent her to her brothers. Her brothers, Ezekial and Benjamin and Joseph and Obadiah, were very busy cutting wood so they sent her to her sisters. Her sisters, Rebecca and Sarah and Esther, were very busy with their needlework, so they sent her to the cook. The cook, Mrs. Tucker was so busy that she didn't even have time to tell the very lively little girl to go anywhere at all, so the very lively little girl ran around mostly with Cat and Dog. She looked out her fan shaped window and waited to grow up or for something exciting to happen.
Something exciting happened that very night. Mr. Ammi Phillips, an itinerant painter, came to their house. He wanted to paint the whole family. Everyone was too busy, but the very lively little girl hollered out I'll do it! And Cat and Dog, too. Her parents smiled and nodded.
The next day, the very lively little girl and Cat and Dog sat in the parlor and Mr. Phillips started painting. Now remember, she was a
very
lively little girl and sitting
very
still was
very
hard. As usual, her mother was entertaining in the parlor, but this time, all the ladies exclaimed "Oh, how darling she is!" They gave her and Mr. Phillips cherry tarts, and they stayed with the ladies all afternoon. Hmmm. Sitting still wasn't so difficult after all.
The next day, the very lively little girl and Mr. Phillips went outside to paint in the sun. That looks like fun, said her brothers and they let her break the twigs off their logs all afternoon. Hmmm. Standing still wasn't so bad after all, either.
The day after that, the very lively little girl's sisters came to watch. Sarah let her wear her lace pantalettes, and Rebecca let her wear her favorite
red
dress, and Esther let her wear her coral beads. And Mr. Phillips painted while the big girls taught the very lively little girl how to sew! Hmmm. Sitting still was turning out to be pretty wonderful after all.
The next day, Mr. Phillips had to put the finishing touches on the painting, so Mrs. Tucker let the very lively little girl stir the soup. That night, when it was time for dinner, the painting of the Little Girl in the Red Dress with Cat and Dog was hanging over the fireplace. Everyone clapped. The very lively little girl told Mr. Phillips that she would miss him very much, and after supper, he said good-bye and left.
Many years later, the very lively little girl now all grown up still thought about Mr. Ammi Phillips. She found out that there were more portraits of little girls in red dresses like hers. But she liked to think that it was because Mr. Phillips missed her, too.
Once upon a time, there really was a Mr. Ammi Phillips, a self-taught painter, who traveled around northern New York, Connecticut and Massachusetts offering to paint pictures of the families who lived in that area. The painting Portrait of a Little Girl in a Red Dress with Cat and Dog was painted in the area around Amenia, New York in about 1835 and now hangs in the Museum of American Folk Art in New York City. Several other versions of the painting exist in other museums as well, but Mr. Nicholson explains in a note at the end of the book that the painting in New York speaks to him in an emotional level in a way that the other versions do not. He feels this indicates a degree of personal attachment on Mr. Phillips part to the sitter, in this case the lively little girl, which the other versions do not possess. This was his inspiration for this delightful book, which is both a celebration of American folk art and a charming story.
It is a universal and timeless truth that all children want more time with their parents, and all children want to be included in family activities. There have been many children's books written on this theme and variations. However, Nicholson artfully uses the theme to show us the activities of a typical landed family in 1830s New England. As the very lively little girl goes from family member to family member looking for attention, we are introduced to what was expected of the master and mistress of a large farming household; what were considered suitable activities for young gentlemen, like chopping wood and young ladies, like needlework. Even then, little ones were often shooed aside when things got hectic. In a creative plot twist, when the very lively little girl very vocally agrees to be the subject of Mr. Ammi's painting, she becomes the center of attention of her until then too busy family. Suddenly she is treated like a little princess. That lets us discover even more about the era since she is now allowed to participate in all of the heretofore forbidden activities like tea parties, wood chopping and sewing. Most importantly of all, we find out the origin of the red dress in the painting -- her sister Rebecca's favorite one. The little girl's feelings are portrayed realistically since the book is written in first person, a sure way to capture a young reader's attention.
Cynthia Von Buhler deserves high praise for her masterful re-creation of the American folk art style. The little girl in the red dress is enchanting. The illustrations are magnificent. They effectively capture both the personal attachment to the sitter attributed to Mr. Ammi and the emotional attachment Mr. Nicholson feels toward this particular version of the painting. It is through Ms. Von Buhler's art that we are able to get a feel for life in the 1830s just as Mr. Nicholson explains how American folk art was begun and carried on as part of a tradition of the times. Ms. Von Buhler includes both portraits and landscapes with much minute detail just like the real thing, so we are introduced to both facets of American folk art. A quaint touch I particularly enjoyed was Ms. Von Buhler's American folk art style portraits of herself and Mr. Nicholson on the flyleaf at the back of the cover.
This is the first book for both author and illustrator. It is an extremely impressive and auspicious beginning. Once again, children can and will learn much about art and history while being enthralled instead of bored by the this excellent example of children's literature. The very lively little girl is very entertaining with her shenanigans. The colors are stunning.
Little Girl in a Red Dress with Cat and Dog
is proof positive that books written for children can be inspirations for young imaginations. This is a book that definitely belongs in every child's and even every grown-up's library.
--Nancy Littlejohn
---
Motley the Cat story by Susannah Amoore, paintings by Mary Feddon
Viking, Feb., 1998.
Picture Book, 24 pages.
ISBN: 0670877301.
Ordering information:
Amazon.com.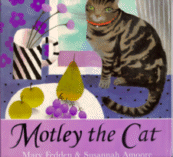 Prepare to be enchanted.
Motley the Cat
is one of those magical blendings of splendid art and glorious writing that makes up the finest in children's literature. Motley could proudly take his place among T.S. Eliot's classic collection of cats. He is an enormous striped cat with a scarlet collar, glittering lime-green eyes and great curves of wiry whiskers springing from either side of the widest nose ever seen on a cat. Motley is looking for a home, not that he isn't having a fine cat's life right where he lives at the College of Adult Education, but rather a permanent home. Being Motley, a magical, mystical cat, he goes about finding his perfect home in a magical, mystical adventure that begins one beautiful midsummer's day. While out and about, he takes a mighty leap to the top of a brick wall surrounding the garden of the home of two little girls who just so happen to be reading in the shade of one of their trees. They are accompanied by Darius, their beloved, elderly, ink-black cat who loves to lie on his back and pat at moths. The garden seems to tilt mysteriously as the girls look up to see Motley staring down at them with his lime-green eyes. Everyone in the family is bewitched by this huge and unusual cat and brings him to their home to spend the night. Motley purrs and leaps with joy until the girls begin playing cards. His lime-green eyes turn dark, and he tenses with ferocity as he springs at the piles of slippery cards.
The next morning, the girls and their mother manage to push the unruly, wild Motley into a basket and return him to the College of Adult Education. The caretaker, thinking that Motley had finally found what he is always looking for, sternly demands why they won't keep him. He certainly doesn't want Motley around. The girls explain that they already have an elderly cat they love and simply can't keep the maniacal Motley. Little do they know that the magic has already started.
Nearly a year goes by but the girls can't forget the enormous, beautiful-ugly cat with the lime-green eyes. They hope for even a glimpse of him, but there is no tilting of the garden, no hint of magic. As the year comes to a close, Darius becomes very ill, and the vet gently takes him away. As they leave the vet with tears running down their chins, something strange begins to happen. They feel a tilting sensation as they run into their house. One of the girls points, and there is that unforgettable face with the lime-green eyes pressed to the window. They throw open the door, and Motley triumphantly and grandly enters their lives forever. Motley had waited nearly a year for the vacancy, watching and knowing everything being a magical, mystical cat with exceptional powers.
The magical, mystical powers really belong to the art of Mary Fedden and the words of Susannah Amoore. Fedden is a well-known, popular British contemporary artist. Amazingly, this is her first picture book. Her pastel watercolors are set off by the zing of a bright splash of intense color in every illustration that grabs our attention and perfectly conveys the mysterious dual nature of Motley. She captures Motley to a tee. His lime-green eyes jump off the page and seem to be watching the reader. In fact, his black and gray stripes and great curves of wiry whiskers and scarlet collar make Motley, no matter how large or small on the page become the center of attention. This vibrant, unusual use of color; the fascinating way the illustrations are laid out on the pages; the contrast of the large color pictures with the small black and white ones subtlely teaches children about art in the most entertaining fashion.
Susannah Amoore is a published poet and it shows in her exquisite use of language. She weaves this delightful story (which she says is true) with eloquence, elegance, mystery and magic. Her delicious words and phrases roll off the tongue and ignite the imagination. She knows cats, and she knows how to describe their movements with verve and poetry. For example, With bristling fur, stiffened slow-moving legs, and some impressive hissing and yowling, they take it in turns to menace and stalk each other beneath the cool-shadowed moonlight, while the river beside them flows silver and dark and fast. She handles the death of Darius soothingly so as not to upset children, and follows it quickly with the perfectly timed arrival of Motley. Amoore has such a magical way with words and uses such delectably descriptive ones that children are learning in the best of all possible ways, by being delighted.
Of course, the real point of this perfect collaboration probably was not to teach children about art or poetry, but rather to write and illustrate an excellent, well-told story with exceptional paintings. Fedden and Amoore succeed on all counts. May they continue their partnership and regale us with something as special as
Motley the Cat
. Cheers to all!
--Nancy Littlejohn
---
Return to Book Reviews Index