Children's Book Reviews
The Internet Writing Journal
Page One of Three
Harry Potter and the Prisoner of Azkaban by J.K. Rowling, Illustrated by Mary Grandpre
Scholastic, Sept., 1999.
Hardcover, 435 pages
Reading Level: Ages 9 to Adult
ISBN: 0439136350.
Ordering information:
Amazon.com.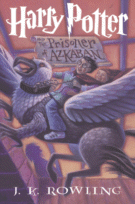 British schoolboy Harry Potter loathes summer vacations. Stuck in his lonely room, forbidden to do anything fun by his ghastly aunt and uncle, the Durstleys, and constantly teased by his obnoxious cousin Dudley, he longs for the schoolyear to start. But Harry doesn't go to just any school -- he attends Hogwarts School for Witchcraft and Wizardry. His adoptive family hates magic and anything to do with it, and finds Harry to be nothing but an embarrassment to them. When Harry accidentally inflates his horrible Aunt Marge into a balloon, he runs away, sure that he will be expelled from his beloved school for the misuse of magic in the Muggle (non-wizard) world. But instead, he receives a mere slap on the wrist and a wizard escort back to school when term time begins. It appears that a terrible criminal has escaped from the Wizard prison of Azkaban who is intent on killing Harry. Hogwarts is on high alert and the principal is more interested in keeping Harry safe than punishing him. Thus starts another year at Hogwarts for Harry and his friends Ron and Hermione. The third year of wizard school is full of magical creatures, high-stakes Quidditch matches (sort of an airborne soccer game played on flying broomsticks) despicable classmates, and a terrible threat to Harry.
This is the third book in the enormously popular Harry Potter series after
Harry Potter and the Sorcerer's Stone
and
Harry Potter and the Chamber of Secrets
. J.K. Rowling proves she hasn't lost her touch.
Prisoner
is full of complex subplots, hair-raising adventures, and the fascinating day to day details of attending Wizard School. Harry is growing up a bit -- we get hints of a crush on a female classmate, and we learn a bit more about Harry's parents who were murdered by the evil Lord Voldemort. But in between death defying escapades, Harry and his friends continue to attend fabulous banquets in the magical Great Hall, eat magical candy from the wizard's sweet shop (chocolate frogs guaranteed to jump around in your stomach), and avoid the school bully, Draco Malfitch. Rowling's prose style is witty, funny and incredibly imaginative. This is one series that really does live up to its media hype. Oh, and as for it being a children's book -- apparently nobody told any of the thirtysomethings who greedily devour the series at a rapid pace. Highly recommended.
--Claire E. White
---
The Bad Beginning: A Series of Unfortunate Events by Lemony Snicket
HarperTrophy, August 1999.
Hardcover, 162 pages
ISBN: 0064407667.
Ordering information:
Amazon.com.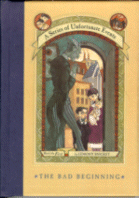 "I'm sorry to say that the book you are holding in your hands is extremely unpleasant." So reads the note from the author to the reader of this amazing new series from the mysterious and elusive author Lemony Snicket. The charming and clever Baudelaire children have just gotten some horrible news. Their parents have perished in a terrible fire which also claimed their house. The three children, Violet, Klaus and the baby, Sunny, must go live with their distant cousin, the detestable and thoroughly weird Count Olaf. Count Olaf treats them shamefully, all the while scheming to get his hands on the fortune they inherited from their deceased parents. It will take all of the ingenuity and courage of the three siblings to defeat the evil Count Olaf, but, as the author warns us, don't expect a happy ending.
The Bad Beginning
is a wickedly funny book with a biting wit and wonderful illustrations. The morose narrator's tone is a perfect accompaniment for the bizarre and witty story, which owes more to Douglas Adams than it does to Ronald Dahl in its cheerful acceptance of the blatantly absurd. The always cheerful, always brave Baudelaire children leap from one disaster to the next, leaving the reader to hope against hope that the narrator is putting him on, and that a happy ending is just around the corner. Although published as a Young Adult title, this is one book that discerning adults will adore. Highly recommended.
--Claire E. White
---
Children's Book Reviews
Page One | Page Two | Page Three

Return to Book Reviews Index