A Tough Man's Woman by Deborah Camp Review
Avon, Nov., 1997.
Paperback, 384 pages.
ISBN: 0380782529.
Ordering information:
Amazon.com.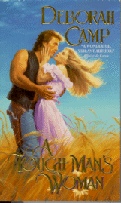 Cassie Dalton is the young, beautiful widow of the wealthy but cruel A.J. Dalton. Alone with her infant on a ranch, Cassie is vulnerable to the neighboring ranch owners who all seem determined to steal her land. Then one day,
he
shows up -- Drew Dalton, the son of her dead husband and his first wife -- claiming the ranch as his inheritance. Just as Cassie is about to order him off the property, he saves her from some vicious characters who seem willing to resort to violence to make her leave her home. Forced into an uneasy alliance, the beautiful and resourceful Cassie and the rugged and mysterious Drew are forced to work together to save the land they both love -- and the infant that Drew now calls his brother. As they work side by side and face the plots to discredit Drew as a cattle rustler, these two independent spirits discover a passion for each other. But they both have secrets in their pasts which could keep them apart. Can they find true love in face of all the opposition?
A Tough Man's Woman
is a welcome entry in the field of historical western romances. You can feel the heat of the Texas sun and see the dust swirling by as Deborah Camp paints her portrait of the Old West. Cassie is not your usual romance heroine and the mystery of her past adds spice to the tale. An excellent tale for those who enjoy the mix of romance and the Old West.
---
More from Writers Write
---