A Magical Christmas by Heather Graham Review
Topaz, Nov., 1997.
Paperback, 336 pages.
ISBN: 0451407962.
Ordering information:
Amazon.com.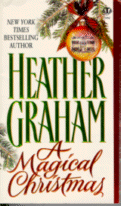 On Christmas Eve in 1862, at the Oak Ridge Plantation in Virginia , 5 young confederate officers are sentenced to hang by Union Brigadier General George Custer. The young captain who had parted from his wife in anger wished only to see her one last time before he died. His wish was granted in a most mysterious manner which would have effects on another family over 100 years later. In present day Florida, Jon and Julie's marriage is falling apart at light speed and their children are in trouble. In a last ditch effort to save their marriage they decide to spend one last Christmas together with the children at an for inn called the Oak River Plantation in Virginia which features a Civil War-era Christmas. Squabbling all the way, the family makes the somewhat arduous trip to find an inn that looks as if it exists in another time and place -- over 100 years ago. As soon as they arrive strange things begin to happen. There is something peculiar about their hosts, the Wainscotts. They are never seen together and are always in character with their Civil War costumes and polite manners. Their love for each other is obvious, but an unknown tragedy seems to hang over the couple. As they get to know the Wainscotts and Christmas Eve approaches, this modern family will have to confront their problems to find the true meaning of love -- and family.
Heather Graham has penned a magical fable of hope and love found in the midst of a modern, cynical world which will resonate with readers. The characters ring true and the problems faced by the teenagers are realistic and timely. Heartfelt and hopeful,
A Magical Christmas
is a story that the whole family will treasure.
---
More from Writers Write