Stabbing Stephanie
by Evan Marshall
Kensington, May, 2001.
Hardcover, 295 pages.
ISBN: 157566657X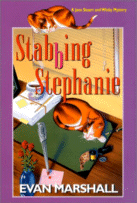 Literary agent Jane Stuart is just getting back on her feet. A widow for the past three years, she has her hands full raising her son, keeping her literary agency afloat, and solving the occasional murder. With things finally on track financially, Jane decides it's time for a vacation. But before she can pack her bag, she gets a call from her late husband's cousin Stephanie. It seems that the pretentious and blatantly racist Stephanie is actually moving to Shady Hills, New Jersey to take a job at an upscale boutique publisher, Carson & Hart, Inc., which is run by Faith Hart, a Grace Kelly-like celebrity who was once married to a foreign prince. Stephanie notices that something is not quite right at Carson & Hart, and when murder ensues, Jane goes undercover as an editor to investigate. With the help of her cat Winky, Jane is set to track down a killer, before the killer decides to eliminate her first.
Stabbing Stephanie
is the third entry in the delightful cozy series starring Jane Stuart and her cat Winky (
See, Missing Marlene
and
Hanging Hannah
). Evan Marshall has a deft hand with dialogue, and his inside look at the life of agents and editors makes for very entertaining reading, indeed. Jane herself is charming, as are her somewhat eccentric neighbors. The small town ambience adds to the intimate feel of the book, and you'll be rooting for Jane every step of the way. If you haven't yet made the acquaintance of Jane, Winky and the inhabitants of Shady Hills, New Jersey, by all means do so. You won't be disappointed.
--Claire E. White
Stabbing Stephanie
is available for purchase on
Amazon.com
Note: We may receive a commission from sales made through product links in this article.
This review was published in the June, 2001 of The Internet Writing Journal.
Copyright © Writers Write, Inc. All Rights Reserved.