Writing Book Reviews
by Editor
Telling the Tale: The African-American Fiction Writer's Guide by Angela Benson
Berkley, May 2000.
Paperback, 212 pages.
ISBN: 0425170543
Ordering information:
Amazon.com.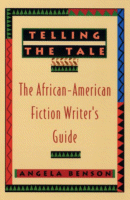 This learning tool for fiction writers focuses on building your craft. The book focuses specifically on the work of African-American writers and instruction from successful author Angela Benson. Fiction writing topics covered include: plot, creating believable characters, researching, point of view, dialogue, monologue, scenes and revision. Benson's book focuses on the "learning by doing" method -- Benson insists that writers rigorously practice their craft. As the author tells writers, "You don't learn to write by reading; you learn to write by writing." To help writers practice, she provides lots of helpful writing exercises. Also included are detailed character profile worksheets and a revision checklist. Benson's writing advice applies to all types of writing, but she primarily uses examples from the work of black writers in television, films and books to illustrate her points. She also provides inspiring success stories from several black authors including Terry McMillan, Evelyn Coleman, and Walter Mosley to show beginning writers how it takes hard work to succeed in the writing world.
Angela Benson is a successful romance novelist whose work includes romances for Harlequin and Tyndale House; she has given numerous workshops and presentations on writing. Her writing advice is constructive and sincere; writers would be well-advised to follow her advice and practice their craft by completing the exercises in the book. Benson knows her stuff, and her wonderful reference book for African-American fiction writers would be equally useful to writers of any ethnicity.
---
Return to Book Reviews Index
---
More from Writers Write