Woe is I by Patricia T. O'Connor Review
Riverhead Books, August 1998.
Paperback, 227 pages.
ISBN: 1573226254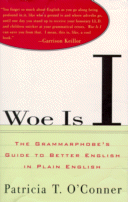 Woe is I, by former New York Times Book Review editor Patricia T. O' Conner, is targeted at the grammarphobe. In a light-hearted yet informative tone, the book addresses numerous concepts of the English language with which writers often struggle. Each chapter in the book addresses a new grammar topic. The "Therapy for Pronoun Anxiety" chapter addresses pronouns, which the author says, "are usually small (I, me, he, she, it), but they're among the biggest troublemakers in the language." The "Comma Sutra" chapter provides information on correct punctuation and the "Death Sentence" chapter focuses on clichés. Other grammar topics addressed in the book include plurals, possessives, verbs, words to avoid and commas. The reference also includes a glossary of grammar terms.
O'Connor provides instruction for improving one's grammar with a witty style that helps the lessons go down a bit easier. Also included are catchy rhymes which help the reader remember the lessons. An appealing and entertaining way to learn the rules of grammar.
Ordering information: Amazon.com.
---
More from Writers Write
---