The Victim in Victoria Station Review
The Victim in Victoria Station
by Jeanne M. Dams
Walker & Co., Oct., 1999.
Hardcover, 208 pages.
ISBN: 0802733379.
Ordering information:
Amazon.com.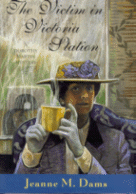 Dorothy Martin loves her life in England. An American married to a retired English police inspector, Dorothy also has a habit of stumbling over dead bodies every so often. While on a train on the way to London, Dorothy befriends a young computer executive who is on his first trip to England. But by the time the train pulls into Victoria Station, the young man is quite dead. When a passing stranger declares himself a doctor and offers to report the death, Dorothy reluctantly agrees, as she is late for a doctor's appointment. But the death is not reported in the London papers, and the railway authority denies any knowledge of it when Dorothy calls to inquire. Suspecting foul play, Dorothy goes undercover as a receptionist in the dead man's computer firm, Multilinks, to find a murderer. She is soon up to her flowered hat in corporate politics and murder.
Dorothy Martin's fifth adventure leads her into the world of cyberspace and international software sales, with very entertaining results. Her mentor in the world of computers is Nigel Evans, a grumpy yet endearing computer whiz who assists Dorothy in her nighttime sleuthing forays at Multilinks headquarters. The storyline is interesting, and the characters are well-drawn and entertaining. But it is Dorothy who is the real draw here -- we can hardly wait for her to clap on yet another new hat and spring into action again. Highly recommended.
---
More from Writers Write
---