Toy Wars by G. Wayne Miller Review
Times Books, Feb., 1998.
Hardcover, 348 pages.
ISBN: 0812929845.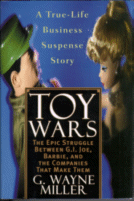 Popular toy Mr. Potato Head was originally rejected by the toy companies because, made from a real potato with plastic eyes and ears, toymakers thought it would soon spoil and smell up the house. Mighty Morphin Power Rangers, the blockbuster TV show with all its valuable spinoff merchandising opportunities, was rejected by every major network and toymaker before Fox Children's Network programming genius Margaret Loesch picked it up. These are just a tiny sampling of the fascinating details which emerge from G. Wayne Miller's new exposé of the competitive toy industry. Unlike the happy go lucky image of the toy industry shown in the movie Big starring Tom Hanks, the real toy industry is for adults-only and bears more resemblance to a killing field than a playground. Toy Wars is a behind the scenes look at Hasbro and its founders, the Hassenfeld family, and its struggle with toy giant Mattel for supremacy in the highly competitive industry. Populated with intriguing and sometimes zany characters, Toy Wars reads more like a novel than the probing industry analysis that it is.
Given unprecedented access to personnel, product and confidential meetings, Miller, an award-winning journalist from the Providence Journal-Bulletin, crafts a remarkable true tale of a vicious, competitive business and the men and women who run it. Founded in 1920 as a pencil box company by immigrant brothers Hillel and Henry Hassenfeld, Hasbro eventually became the multi-million dollar conglomerate toy company so loved by fund managers under the tutelage of CEO Stephen Hassenfeld, until his death from AIDS (at the time a closely-guarded secret) in 1989. After Stephen's death, younger brother Alan picked up the reins of the company and guided it through a brutal restructuring and fended off a hostile takeover bid by arch-rival Mattel. Along the way, he grows as a person as well as a business leader to emerge victorious with a bright future -- for him, the children at the heart of the industry -- and the all-important stockholders. A story of power, greed, corruption, philanthropy, love and loyalty, Toy Wars is an exceptional telling of the extraordinary story of the brutal world of toys.
--Claire E. White
Ordering information: Amazon.com.
---
More from Writers Write
---