The Right Hand of Evil by John Saul Review
Ballantine, June, 1999.
Hardcover, 344 pages.
ISBN: 0345433165.
Ordering information:
Amazon.com.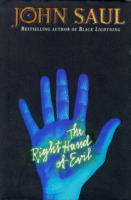 Ted and Janet Conway are having major marital troubles. Ted is an alcoholic who can't keep a job and his wife and three children are miserable when he's around. Then Ted's crazy aunt leaves him a spooky old house in St. Albans, Louisiana and the family seems to have a chance at starting over. Of course, the house has a really creepy history -- Ted's aunt has been in a psychiatric hospital since her husband committed suicide and the disappearance of her newborn child. The house itself is dark and suffocating, but Ted seems like a new man there. He stops drinking and starts renovating the home to turn it into a hotel. But the house has a different effect on the kids. Jared and Kim's mental link is broken, Jared is turning into a juvenile delinquent, Kim is having horrible nightmares and the family keeps hearing a child crying -- but it's not Molly, the baby of the family. The suspense and horrifying occurrences build until the truth is revealed about what is lurking in the house, and controlling yet another generation of Conways.
In the hands of a master like
John Saul
, the familiar plot of a family moving into a haunted house becomes something new and terrifying. The pacing is fast and the storyline is truly nerve-wracking; a few chapters will have you as nervous as the guy who skipped breakfast and downed three triple espressos at Starbucks. The teenagers are especially well-done, and their experiences will have you glued to the pages. If you're new to John Saul's books, get ready for a lifelong addiction. Highly Recommended.
---
More from Writers Write