Romance Book Reviews
Page One of Two
Hot and Heavy by Sandra Hill
Leisure, July, 2005
Paperback, 358 pages
ISBN: 0843951605
Subgenre: Paranormal
Ordering information:
Amazon.com
In the 11th century, Madrene Olgadottir is the proud daughter of a Norse ruler who has just been invaded by a very nasty neighbor. Just as things are about to get very bad for Madrene, she finds herself transported to the 21st century. Lt. Ian MacLean is leading a Navy SEAL team to Iraq to capture the mistress of a very dangerous terrorist. MacLean finds Madrene in a cave and jumps to the conclusion that she's the woman they're looking for. After all, she does demand to be taken to Baghdad, and who else but a terrorist's girlfriend would want to go there in the middle of a war? Madrene is covered in camel dung and her hair hasn't been washed in weeks, so when she's taken to the U.S. base in Germany and cleaned up, it comes as quite the shock to the team when she turns out to be a great beauty. No one believes her story about being Norse, but she clearly isn't the terrorist Jamal's mistress either. The brass allows a quickie wedding so Madrene can go back to the states with Ian, where she'll serve as bait for the terrorists who seem to think Madrene can give away valuable information about them. Being a firm believer in magic, the advanced technology doesn't bother Madrene as much as you might think, and she adapts pretty quickly to life in Southern California. But the bad guys are lurking. And the course of true love between an 11th century Norsewoman and a California boy is not a smooth one.
When you pick up a Sandra Hill book, you know what to expect: a very funny, tongue in cheek romance that is the perfect quick escapist read.
Hot and Heavy
is just the kind of book to lift your spirits when you're feeling down in the dumps.
---
Over Her Dead Body by Kate White
Warner Books, July, 2005
Hardcover, 374 pages
ISBN 0446531766
Subgenre: Contemporary
Ordering information:
Amazon.com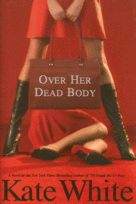 When she's not editing the latest issue of
Cosmopolitan
magazine, Kate White somehow finds the time to write very funny murder mysteries starring amateur sleuth Bailey Weggins. In her fourth outing, Bailey gets fired from
Gloss
magazine, but manages to find a job at
Buzz
(a
People
magazine clone), with an acid-tongued editor named Mona Hodges who -- of course -- winds up murdered. More interested in a great story than finding out who murdered the malevolent Mona, the acting editor assigns Bailey to the story. Bailey's friend, Robby Hart is a suspect in the crime, although her investigation reveals that there were actually quite a few people who would love to have seen Mona removed from her job, permanently.
Bailey Wiggins is the kind of protagonist that you love to listen to. Her thought processes are, by turns, bitchy, informed and utterly hilarious. This is one series that is really hitting its stride, and Bailey is a delight.
---
Romance Book Reviews
Page One |
Page Two
---
Return to Book Reviews Index
---
More from Writers Write
---