Romance Book Reviews
Page Two of Two
Love Heals All by Leslie Brannen
Jove, December, 1997.
Paperback, 280 pages.
ISBN: 0515121886.
Ordering information:
Amazon.com.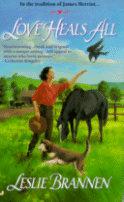 In the late 1800s, society dictates that a woman should not wear pants -- and she certainly isn't allowed into veterinary school, much to Cat Wills' chagrin. But Cat is not one to let society dictate to her. Pants and a shirt are more comfortable for work and for horseback riding than those voluminous skirts, so that's what she wears. As the sole veterinarian of Little Falls, Missouri, she has worked hard to earn the trust of the local farmers and ranchers. But when a new doctor and veterinarian comes to town from Boston and his son Drake Kendall sets his cap for her, Cat's life is in for some real changes. While the attentions of the devastatingly handsome Drake are flattering, what Cat really wishes is that she could win the heart of her childhood friend Michael Cooper, who only sees her as a little girl. When a foal's death is unfairly blamed on Cat by Dr. Kendall, Cat and Michael must team up to save Cat's reputation -- and find out if they can light a spark of their own, despite the complication of Drake Kendall and his smooth-talking, sophisticated Boston ways.
Leslie Brannen has created a charming heroine with Cat Wills. A fiercely independent woman who is ahead of her time, she is an excellent doctor even without the veterinary degree that she so covets from the all-male the university. With a light, humorous tone and lively characterizations,
Love Heals All
will delight animal lovers and those who love a sweet, romantic tale.
---
A Promise Given by Samantha James
Avon, Jan., 1998.
Paperback, 379 pages.
ISBN: 0380786087.
Ordering information:
Amazon.com.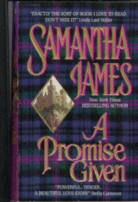 In 1306 Scotland, the brave and dashing Ian MacGregor is the head of the his Highland Clan and is respected by all. He returns to his childhood home, Dunlevy Keep, to carry out a promise to wed the eldest daughter of Duncan Kincaid. But when Margaret disappears on the eve of the wedding, Ian declares he will marry his old playmate, Sabrina, Duncan's younger daughter. Up until now, Sabrina's life has been miserable because of the abuse heaped on her by her cruel father and uncaring, cold older sister. And she has never forgiven Ian for betraying a childhood confidence and wants no part of this marriage, for she believes herself to be in love with another. Furthermore, Ian has a mysterious secret in his past and there are rumors that he is responsible for Margaret's disappearance. As Sabrina and Ian begin their journey to the MacGregor castle, they discover an overpowering passion for one another. When they arrive at the castle it becomes clear that someone does not like Sabrina and that danger is around every corner -- and not just from the looming war with England which many Scots feel is inevitable. Can Sabrina and Ian turn their passion into a lasting love or will the evil forces surrounding them destroy their life together?
In
A Promise Kept
, Samatha James presents a sweeping, passionate story which will have romance readers burning the midnight oil in order to find out what happens next. Set in the same era as the movie
Braveheart
, while Scotland battles for its independence from England, this tale seamlessly weaves the historical background of the era with the passionate tale of two spirited individuals who must fight to earn a life of love and passion together. The result is a mesmerizing story which will thrill any lover of historical romances.
---
Rough Around the Edges by Susan Johnson, Dee Holmes, Stephanie Laurens and Eileen Wilks
St. Martin's, June 1998.
Paperback, 312 pages.
ISBN: 0312965990.
Ordering information:
Amazon.com.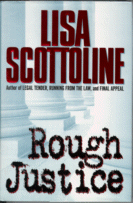 Rough Around the Edges
is an anthology of the most passionate short romance stories from today's hottest authors. Two of the tales are historical romances and two are set in modern day. The anthology starts with "Playing With Fire," a sexy tale set in 1785 London. The handsome rake, the Duke of Ware, is left destitute by his reprobate father and so is forced into a marriage of convenience with unwilling heiress Olivia Overton. As the reluctant bride and groom are thrown together on the honeymoon, they find that they may have more in common than they first thought. In "Melting Ice," Australian author Stephanie Laurens paints a passionate historical tale about the meeting between Fiona Winton-Ryder, known as "Lady Artic" and the handsome and untamable Dyan St. Laurent Dare at a weekend country house party. During the course of the weekend the coldness and reserve of "Lady Artic" are melted away by the hot embrace of the ardent Lord Dare. In "Once Burned," old lovers Mariah and Deke set out on a roadtrip to New Hampshire and find that old sparks can turn into a new flame. And finally, in "Simple Sins" small town girl Felicity Armstrong engineers to be stranded with dashing stuntman Damon Reeves and gets more than she bargained for.
Susan Johnson can spin a tale like no one else and "Playing With Fire" is passionate and compelling. Rising romance star Stephanie Laurens adds another gem to her collection with the vivid and breathtakingly passionate story "Melting Ice."
Rough Around the Edges
is
the
anthology to read if you like your tales hot and passionate and your heroes dangerous, exciting, and with a few "rough edges" that cry out for a woman's touch.
---
Romance Reviews
Page One

Return to Book Reviews Index




---
More from Writers Write
---