Romance Book Reviews
Page Two of Two
The Hazards of Hunting a Duke (Desperate Debutantes) by Julia London
Paperback: 384 pages
Pocket Star, May, 2006
ISBN 1416516158
Subgenre: Historical
Ordering information:
Amazon.com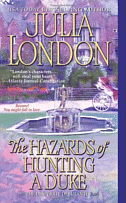 In 1819 London, Jared Broderick, the Marquis of Middleton, is the heir to the profitable Redford Duchy. A notorious rake, Jared is not a bad sort really, but he's been raised to be a Duke all his life. That means his friends, his schooling and every detail of his life has been overseen by his overbearing, widowed father. At the age of 30, Jared receives an ultimatum from his father: get married, produce an heir, or get disinherited. Jared would prefer life with the lively Widow Waterstone, but their notorious affair has scandalized the ton and infuriated his father. Ava Fairchild is a beauty, but enjoys being single as her family has enough money for her not to worry about being auctioned off to the highest bidder. At a ball, Ava breaks her shoe and can't dance. So when Jared -- the ton's most eligible bachelor -- asks her to dance, she is expected to agree, regardless of the state of her shoes. But she declines, giving Jared a direct cut in front of half of the ton. Shocked, he withdraws. When Ava ends up in Jared's carriage by mistake, he has his revenge -- a kiss. When Ava's mother dies, she, her sister and her cousin are left penniless by her heartless stepfather who steals their inheritance and heads off to France to pursue his errant mistress. Facing a dire future, Jared asks Ava to marry him in a marriage of convenience. She would provide an heir and promise to leave him alone. He, in return, would take care of her sister and cousin. Ava agrees, but then decides that she wants a real marriage. And with the help of a ladies' maid with a dubious past, she sets out to beguile her own husband.
Julia London leaves the Highlands and heads straight for London with this gripping regency tale of love, passion and revenge. The standard plot of a marriage of convenience turning into a marriage of love becomes a moving -- and at times quite amusing -- story of true love in the hands of the talented Ms. London. The twist of the Marchioness having a ladies maid who used to be a lady of the evening (she was rescued from the poorhouse by Ava) provides quite a bit of steaminess to the love scenes. But most importantly, Ava is a smart, competent heroine that knows how to go after what she wants. The Desperate Debutantes series is off to a rousing start with
The Hazards of Hunting a Duke
.
---
Once Upon Stilettos by Shanna Swendson
Ballantine Books, April, 2006
Paperback: 320 pages
ISBN 0345481275
Subgenre: Paranormal
Ordering information:
Amazon.com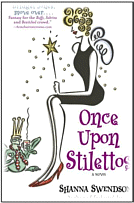 In
Enchanted, Inc.
, readers made the acquaintance of career girl Katie Chandler, whose immunity to magic landed her a plush job at the headquarters of good magic in New York City. Now the assistant to Merlin (yes,
that
Merlin), Katie helps her boss see through magical enchantments created by the bad guys while swooning over handsome uber-wizard Owen Palmer. When it becomes clear that Enchanted, Inc. has a mole inside headquarters who is selling secrets to the other side, Merlin gives Katie the job of finding the traitor. But this is one job that Katie's not sure she can do: her parents are in town from Texas to see how their little girl is doing in big bad New York City and ever since she bought some fabulous red shoes, she seems to be losing her magical immunity. A likeable heroine, a breezy and very funny plot and interesting secondary characters make this a great summer read for those who like a little bit of magic sprinkled over their chick lit.
---
Romance Book Reviews
Page One
|
Page Two
---
Return to Book Reviews Index
---
More from Writers Write