Romance Book Reviews
Page One of Two
Dark Demon by Christine Feehan
Jove, April, 2006
Paperback, 546 pages
ISBN: 0515140880
Subgenre: Paranormal
Ordering information:
Amazon.com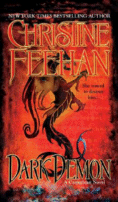 Natalya Shonski is part Carpathian, part human and part Mage. A powerful and yet lonely woman, she has spent her life fighting vampires, never staying in one place for too long. She knows about the Carpathian hunters, but has always avoided them because of a family myth that said that the Carpathians are pure evil. Drawn to the Carpathian mountains by a mysterious compulsion, Natalya is fighting for her life against three vampires and a wolf pack when the Carpathian hunter Vikirnoff arrives to help in the fight. Vikirnoff is dangerously close to turning into a vampire himself, because he has never found his lifemate. Vikirnoff immediately recognizes Natalya as his lifemate, and is overjoyed that he has finally found a sweet, June Cleaver-like female to marry. Vikirnoff is one of the oldest and most powerful Carpathians, and is in for a real shock. Because, as Natalya tries to explain to him, she's more Xena Warrior Princess than June Cleaver. Not being a fan of television, he has no idea what she's talking about. But he's about to find out, because the woman he is destined to spend his life with is an independent modern women who just happens to be just as skilled a warrior as he is.
The talented Christine Feehan takes her bestselling Carpathian series into a new and very exciting direction with this pulse-pounding adventure. The Dragonseeker line, hinted at in prior books, is introduced in
Dark Demon
and the subplot adds a rich texture to the Carpathian mythology. Natalya and Vikirnoff's interactions are priceless and quite funny, as Vikirnoff begins to realize what it means to live in the modern world. It is a difficult thing to keep a long-running series fresh and alive, but Christine Feehan does just that:
Dark Demon
is an absolutely gripping story, full of adventure, passion, and -- of course -- true love.
---
Hex and the Single Girl by Valerie Frankel
Avon Trade, February, 2006
Trade paperback, 320 pages
ISBN 0060785543
Subgenre: Contemporary
Ordering information:
Amazon.com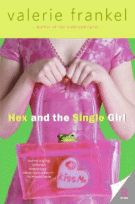 Emma Hutch is a Good Witch living in New York. Her talent is telegraphopathy: she can send images into other people's minds with a touch. She uses this unusual talent in her matchmaking business: for the right fee, she sends sexy images of her client into the minds of the town's most eligible bachelors. Unfortunately, her magical matchmaking powers don't seem to work on her own love life, which is essentially a disaster. Just when her bank account is nearly empty, Emma is hired by a new client who wants to marry software tycoon William Dearborn. Although she senses that her client isn't on the level about being madly in love with William, she takes the case. She follows William all over town in disguise and does her best to make him fall in love with her client. But William seems somehow immune to her charms, and more interested in her. Emma is going to have to act fast, because if she doesn't come through on this case, she's going to be witch without a home after the bank forecloses. This madcap and very funny romp through Manhattan has an appealing cast of interesting characters, a touch of magic and a charming heroine that really deserves another adventure.
---
Romance Book Reviews
Page One |
Page Two
---
Return to Book Reviews Index
---
More from Writers Write