Romance Book Reviews
Page Two of Two
The Bride Was a Rental (Yours Truly) by Kelly Jamison
Silhouette, April 1998.
Paperback
ISBN: 0373520662.
Ordering information:
Amazon.com.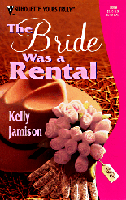 Vowing never to remarry, Sam Weller had settled into being confirmed bachelor. However, his mother, Enid, was determined to have her son married. Sam, having received a note from his mother that she was on her way to see him and wasn't leaving until she found him a bride, decided to outwit his mother at her game. Noticing a new company that was in town called "Rent a Wife", Sam decides to rent someone to pretend to be his fiancee so his mother will butt out of his life.
Ginger Marsh and her daughter Emily are new to town and need the income so Ginger decides to take Sam up on his proposition. She will act the part of his fiancee, cook, clean and be the perfect future wife -- but with no strings attached. But Ginger and Sam fail to reckon with their emotions and attraction for each other. A relationship blossoms and the rest is history.
The Bride was a Rental
explores the joys and terrors of relationships, parenthood and life on a ranch. A good emotional drama laced with a little intrigue.
--Barbara Paschall Averitt
---
A Charmed Place by Antoinette Stockenberg
St. Martin's Press, June 1998.
Paperback, 359 pages.
ISBN: 0312965974.
Ordering information:
Amazon.com.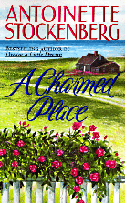 In quiet Sandy Point, Cape Cod, Maddie Regan is doing her best to start her life over at 40. With a rebellious teenage daughter and a promiscuous and vicious ex-husband it's no easy task, especially since the bizarre unsolved death of her father. The last thing she expected was for her former flame Dan Hawke, the handsome and famous CNN war correspondent, to move into the old lighthouse next door to try to rekindle old flames. Having Dan next door is quite distracting, but she has more pressing issues to deal with. Her ex-husband is acting stranger and more violent and is threatening to take her daughter away from her. On top of that, evidence has come to light that makes Maddie believe that her father was murdered. With Dan's help, Maddie sets out on a journey to discover the truth about her father's death and what she must do to keep her daughter safe from harm. Along the way, Dan and Maddie will learn some valuable lessons about the past and how to find true happiness.
A Charmed Place
is a captivating mixture of mystery and romance with characters that seem so real they jump off the pages. Stockenberg is adept at capturing family relationships and conveying a real sense of the characters' feelings and motivations. An intriguing and passionate tale which will have readers longing for the next Stockenberg novel.
---
Romance Reviews
Page One

Return to Book Reviews Index





---
More from Writers Write