Romance Book Reviews
The Internet Writing Journal
Page One of Two
Homeport by Nora Roberts
Putnam, March 1998.
Hardcover, 456 pages.
ISBN: 0399143874.
Ordering information:
Amazon.com.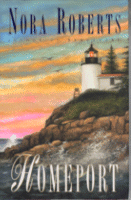 Dr. Miranda Jones of Jones Point, Maine, is a beautiful, if somewhat lonely archeometrist who spends her days at The New England Institute of Art founded by her brilliant but remote parents. Her evenings are usually spent with her alcoholic but beloved brother in their family home. Her life is quiet until the day she is attacked at knifepoint and her wallet, passport and ID are stolen. Shaken up, but not seriously injured, Miranda complies with her mother's imperious demand that she travel to Standjo, the family's art laboratory in Italy, at once to help authenticate a recently discovered Renaissance bronze known as "The Dark Lady" after a courtesan at the de Medici court. Miranda authenticates the find as a Michelangelo, but someone leaks the findings to the press. Banished back to the states by her furious mother, Miranda is further devastated when another art lab declares The Dark Lady a fake. Her reputation in tatters, Miranda endures yet another blow when a different bronze is stolen from her museum. Soon afterwards, a handsome and angry art thief, Ryan Boldari, shows up in her bedroom one night claiming that the bronze he stole is also a fake. Now Miranda and Ryan are forced into an uneasy alliance to prove that a forgery was substituted for the real Dark Lady and to find the killer who is stalking Miranda.
The inimitable Nora Roberts has created yet another captivating adventure which will sweep readers away on a tide of passion, suspense and intrigue. With startlingly real characters, a complex plot and a superbly moody atmosphere created by the vivid descriptions of Florence and the Maine coastline,
Homeport
enthralls and entertains on every level.
---
The Lady and the Knight by Lois Greiman
Avon, Dec., 1997.
Paperback, 372 pages.
ISBN: 0380794330.
Ordering information:
Amazon.com.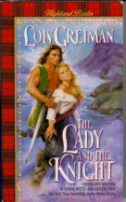 In Scotland in 1509, three cousins make a magical wish upon the Dragonheart amulet. Although the three girls wish for different things they all form a pact to come to each other's aid whenever one is in danger or need. Seven years later, Sara of the Forbes, the eldest of the cousins, is surely in need. A widow, she has gone to live with her cousin Caroline and Caroline's infant son. Caroline is the mistress of the powerful Lord Haldane and the infant is his only heir. On a difficult journey to safety in the Highlands, the group is set upon by vagabonds and all are killed except Sara and the infant. Caroline's dying words make Sara think that the brigands were sent by Lord Haldane, so naturally she is less than thrilled when Sir Boden Blackblade shows up to escort her back to Lord Haldane. But the Knight is insistent upon escorting them. After numerous escape attempts, Sara begins to notice a growing attraction for the handsome Knight who has saved her from many dangers on the journey to Knolltop. As the pair travel towards safety they have many adventures and grow to realize their love for one another. Each torn by honor and duty, they know that they cannot be together because of Haldane's love for Sara -- or can they?
The Lady and the Knight
is the first entry in the Highland Brides trilogy which will follow the lives of the three cousins, Sara, Rachel and Shona. A medieval romance with magical elements, this latest effort from Lois Greiman is sure to please lovers of historical romances. With a dashing yet human hero and a spirited and beautiful heroine, the story moves along at a thrilling pace. The romance is steamy and the peek into medieval life adds interest to the tale. Readers will be breathless with anticipation for the next installment in this exciting new series.
---
Romance Reviews
Page Two

Return to Book Reviews Index