Romance Book Reviews
Dark of the Night by Dee Davis
Ballantine, March, 2002
Paperback, 384 pages
ISBN: 0804119767
Subgenre: Contemporary
Ordering information:
Amazon.com
Riley O'Brien is the perfect political daughter; she is an invaluable asset to her father Senator Carter O'Brien as he makes his bid for the White House. Desolate after the deaths of her sister and mother, Riley has given her entire life over to her father's political career. Riley is just the kind of woman that investigative reporter Jake Mahoney can't stand -- an ice princess, just like his ex-wife. So he is anything but happy when he's forced to cover a campaign rally where Riley is the featured speaker. When a car bomb goes off, Jake ends up saving Riley's life, and suddenly he's not so sure that Riley is anything like his scheming ex-wife. As he gets to know Riley, he realizes that a murder investigation he's working on may be tied to the Senator's past -- a past that could destroy Riley and her entire family.
Dee Davis presents us with a fast-paced romantic political thriller which is sure to entertain. She takes us behind the scenes of a presidential campaign, with all the spin doctoring, backstabbing and cover-ups that permeate the current political process. Jake and Riley make an appealing and passionate couple, as they seek to uncover some very nasty secrets in the O'Brien family past. Ms. Davis shows her versatility with this gripping thriller which is miles away in tone from the lighthearted and funny
Just Breathe
, but is just as enjoyable. Don't miss it.
---
Dream Island by Josie Litton
Bantam, March, 2002
Paperback, 400 pages
ISBN: 0553583891
Subgenre: Historical
Ordering information:
Amazon.com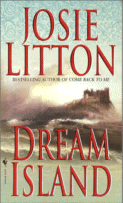 Lady Joanna Hawkforte is determined to travel to the ancient and mysterious island country of Akora to find her beloved brother Royce, who set out on an expedition to the fabled land and was never heard from again. In a shocking breach of propriety, Joanna stows away on a ship bound for Akora. The ship is owned by Lord Alex Darcourt, a half-English, Akoran prince, and he is not happy at all when he discovers the stowaway. Nevertheless, he tends to her injuries she sustained in her stowaway attempt and takes her to his homeland. Akora is a beautiful place located just past the Pillars of Hercules (think Atlantis). As Joanna and Alex fall in love, they must rescue Joanna's brother Royce, and root out a traitor who is determined to destroy Akora.
Dream Island
is a rare gem of a Regency romance. Josie Litton (actually Maura Seger) takes a standard Regency plot and gives it a paranormal twist. The addition of the fictional country of Akora and some psychic abilities of Alex's sister, Kassandra (who can see the future), and of Joanna (who has the gift of finding lost things) gives a unique twist to this passionate story that puts it in a category of its own. Like her last bestselling series (
Dream of Me
,
Believe in Me
and
Come Back to Me
), this new series has romance, magic and a fantasy feel to it that is sure to enchant readers.
---
Head Over Heels by Susan Anderson
Avon, January, 2002
Paperback, 372 pages
ISBN: 0380819171
Subgenre: Contemporary
Ordering information:
Amazon.com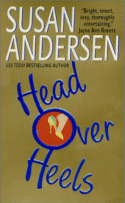 The happiest day of Veronica Davis' life was the day that she left Fossil, Washington to become a designer/restorer of old homes. Now based in Seattle with a thriving business, she is forced to go back to her hometown when her flighty sister Crystal is murdered and her husband is accused of the crime. Veronica arrives in Fossil to take care of Crystal's daughter, and ends up doing the one job she swore she'd never do again: tending bar at the family's honky tonk. But she's short-handed, and wants to sell the bar for her niece's benefit, so she goes back to waitressing until she can find a replacement. To make things worse, the handsome bartender, Cooper Blackstock, is very antagonistic. Apparently he also knew the conniving Crystal, and thinks that Veronica is cut from the same cloth. But Cooper is not who he seems to be, and he and Veronica have a long way to go before their blossoming attraction has any chance of turning into true love.
Head Over Heels
is a gutsy, heartfelt contemporary romance that is sure to tug at your heartstrings. Susan Anderson takes on some weighty issues here, such as trust and responsibility, and integrates them deftly into a funny and passionate love story which is sure to garner her more fans.
---
---
More from Writers Write