Reviews of Writing Books
The Internet Writing Journal
Words Fail Me: What Everyone Who Writes Should Know About Writing by Patricia T. O'Conner
Harcourt Brace, September 1999.
Trade Paperback, 240 pages.
ISBN: 0151003718
Ordering information:
Amazon.com.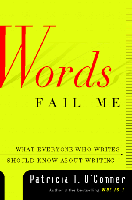 Former
New York Times Book Review
editor Patricia T. O'Conner is back with a follow-up to her bestselling and valuable grammar reference,
Woe is I
. In this latest release, she tackles common writing problems and discusses elements of good writing. O'Conner is especially perturbed by the amount of poor writing these days, which is even more obvious because of the Internet and email where everyone's glaring grammar and usage mistakes are on display for the world to see. In the author's own words the book is "about techniques for making poor writing presentable and good writing better. Think of it as a user's manual for words." The book provides helpful tips on writing techniques; it is also extremely enjoyable to read, with interesting anecdotes about famous writers to spice up the examples and chapters with titles such as "Pompous Circumstances: Hold the Baloney," and "The Life of the Party: Verbs that Zing." Some of the subjects covered in the book include: organization, speeches, using big words, provocative verbs, pronouns, modifiers, sentence structure, paragraphs, repetition, grammar, numbers, staying focused, first person, rhythm, humor, emotion and writer's block.
Words Fail Me
is a superb reference for student and professional writers alike, with practical advice, relevant examples and O'Conner's brand of witty humor which is sure to keep the reader engrossed in a subject that otherwise might be insufferably dull. These reference is great for poor writers but also beneficial to good writers as well. As O'Conner herself explains, "even if you're a Tolstoy or a Balzac, a Thurber or a McPhee, it doesn't hurt to learn the rules before you break them."
Words Fail Me
is well-researched, extremely informative and highly entertaining. Highly recommended.
---
The Marshall Plan for Novel Writing by Evan Marshall
Writer's Digest Books, October 1998.
Hardcover, 242 pages.
ISBN: 0898798485
Ordering information:
Amazon.com.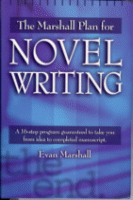 Evan Marshall is a successful literary agent and mystery novelist (author of
Missing Marlene
). He also also teaches a popular writing seminar through the Heartland Writers Guide. In his book and writing program,
The Marshall Plan for Novel Writing
, he helps readers take a story idea to completed novel. The program is divided into five major parts, which cover planning and developing your story idea, plotting, writing like a pro, self-editing and a final section on marketing your novel. The book is further divided into sixteen steps, each of which contains tips and advice you can't find anywhere else. Some highlights include: a complete list of different genres and subgenres, character fact lists, section sheets (a device used for plotting), FAD (putting feelings, action and dialogue in the correct order) and the Novelist's Manual for Self-Editing, a collection of checklists for writers to use when editing their novel. Each step also provides thorough advice on what to do and what not to do, examples of what works and inspiration to keep you going. An appendix in the book includes a sample synopsis for a novel that was sold and published.
Evan Marshall is an expert on the publishing industry and what it takes to complete a commercially viable manuscript. Marshall's' suggestions and thoughts on the novel writing process are conveyed in a logical and easy-to-follow manner in the
Marshall Plan
. The program can be completed from start to finish, or the reference can be used by budding novelists looking to brush up on a particular area such as characters, or overcome a specific problem such as editing or writer's block.
The Marshall Plan
is truly a must-have resource for anyone embarking on the journey of writing a novel, and would make a superb gift for any aspiring novelist. Highly Recommended.
---
Conflict, Action & Suspense by William Noble
Writer's Digest Books, May 1999.
Trade Paperback, 185 pages.
ISBN: 0898799074
Ordering information:
Amazon.com.
In this fiction writer's aide, author William Noble provides insightful instruction on developing conflict and drama by focusing on what readers want to get out of the writer-reader partnership. Noble explains that "conflict only works when we appreciate that the reader will be moved by it, and we should know that in the writer-reader partnership it is the reader's reaction we strive for." Noble uses this concept to teach writers how to hold the reader's attention and other techniques to build suspense. Some of the concepts covered in the reference book include: stage-setting, openings, cliff-hangers, dialogue, mood, atmosphere, character development, point of view, misdirection, time and place, pacing and endings. Noble also provides examples, plot ideas and sample dialogue to help get his message across to the novice fiction writer. The author also explains the techniques of popular fiction writers. Noble writes that "one of Alfred Hitchcock's most useful techniques was to take innocent characters and put them into a bizarre situation." In the book he explains how to use this technique to develop your own story.
This fiction writing aide contains valuable advice and examples which show the reader how to write suspense fiction that excites and entertains readers. A valuable reference for fiction writers.
---
Return to Book Reviews Index