Reviews of Writing Books
Achieving Financial Independence as a Freelance Writer by Ray Dreyfack
Blue Heron Publishing, July 2000.
Paperback, 149 pages.
ISBN: 0936085479
Ordering information:
Amazon.com.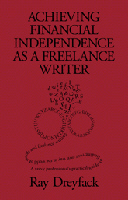 This freelancer's aide begins with a straight-shooting explanation of what it takes to become a freelance writer. Some of the skills listed include professional competence, ability to work alone, realistic assessment of financial needs, a burning desire to write and to publish, security savvy and linkage to help and research source. For readers that feel they don't have these skills, the author tells them that -- fortunately -- these are skills that writers can develop. The book continues on to provide freelance writers with information about what it takes to make it as a full-time freelance writer, including determining how much financial security one will need to make a go of it. Topics addressed include specializing, finding freelance work, selling, marketing, computers and computer problems, writing a book, writer's groups and agents. Some highlights in the book include "Farm Where the Soil is Richest," a chapter about getting high-paying corporate freelance writing work, and "Should You Write a Book?", a chapter explaining the pros and cons of writing a book for the freelancer.
Ray Dreyfack offers practical advice and tips for writers seeking a full-time freelance career. Dreyfack, a successful freelancer himself, tells writers what they need to do to get on the right path. He also includes anecdotes and insider tricks he has learned himself and from fellow freelancers that are sure to be real eye-openers for novice freelancers. With savvy advice and a friendly tone, this book is a must-read for anyone hoping to make the leap to full-time freelancer.
---
Chicken Soup for the Writer's Soul by Jack Canfield, Mark Victor Hansen and Bud Gardner
Health Communications, Inc., July 2000.
Trade Paperback, 406 pages.
ISBN: 1558747699
Ordering information:
Amazon.com.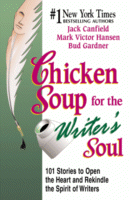 Chicken Soup for the Writer's Soul
provides 101 stories for writers presented in the well-known
Chicken Soup
style. The essays are written by professional writers in a variety of writing fields; they describe how they found success, motivation and glory through writing. Writing tips and inspiration are also provided within the stories. The book includes inspiring essays from top writers, such as Sue Grafton, Ray Bradbury, Steve Allen, Clive Cussler and the late Barbara Cartland. There are also a few cartoons related to the craft of writing to lighten the mood.
Writing is a solitary profession, and writers deal with as much rejection as salesmen. It takes real motivation and inspriration to be a great writer. This wonderful collection of the trials and tribulations of successful writers, including their stories of struggling to get published, rejection, hard work and challenges, is sure to brighten any writer's day. Writers of all styles and genres will want to keep a copy of this nearby to inspire them during dull moments, when a rejection slip arrives, or when the dreaded writer's block makes an appearaance.
Chicken Soup for the Writer's Soul
will also make a perfect gift for writers of all ages and experience levels.
---
The Novelist's Notebook by Laurie Henry
Story Press, 1999.
Hardcover, 144 pages.
ISBN: 1884910424
Ordering information
Amazon.com.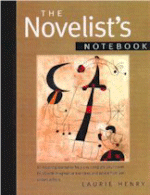 Who hasn't had a friend or relative who keeps saying "I just have to write this all down. It will make a great novel." ? Perhaps this idea is on the reader's own list of Great Things I Am Going to Do Some Day. Because nothing really gets written until a person actually sits down to begin the labor, Laurie Henry has given us an invaluable tool by writing
The Novelist's Notebook
. Laurie Henry has graduate degrees in writing from both Johns Hopkins University and the University of Iowa. Currently she teaches at Raymond Walters College, and is associate editor of
Story
magazine. Best of all, she is currently working on a novel herself.
If the aspiring novelist has any idea that producing a novel can be done in odd moments while on weekends or while on vacation, he will certainly be set one on the road to a more realistic attitude by reading Ms. Henry's book. Just reading the helpful organization of the contents will entice one to begin making notes and sorting out the important from the trivial. Such fascinating subjects as "A Picture Outline," which is followed by "Writing Without an Outline" begin to teach the writer how to get started. The section called "Necessities" is clearly going to force the novice to consider things that he or she never has considered before. A section named "Possibilities" guides one through all kinds of devices that will move the story along, while entertaining one's prospective readers. After the novel is actually written, the real labor begins. One must now face the chapter aptly named "Double-Checking and Revising." Now it will be time to check for point of view, conflict, and to copyedit.
The Novelist's Notebook
is an invaluable tool for the writer, because it forces a certain discipline and realistic tasks on the formless and amorphous collection of phrases, opinions and experiences that most writers start with. Work through this book, and a first novel will surely be born. The next challenge will be getting it published, but that is another book.
--Sarah Reaves White
---
Return to Book Reviews Index
---
More from Writers Write