Reviews of Writing Books
Page One of Two
2000 Writer's Market: The Electronic Edition edited by Kirsten C. Holm, Bill Brohaugh and Andrew Lucyszyn
Writer's Digest Books, September 1999.
Trade Paperback, 1112 pages.
ISBN: 0898799112
Ordering information: Book & CD-ROM
Amazon.com.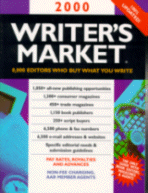 The Writer's Market
is an annual guide providing a comprehensive directory of paying markets for freelance writers and novelists. This year's edition includes over 1,000 new markets, plus updated markets from the previous edition. The markets in the book include book publishers, commercial magazines, trade magazines, screenwriting markets, syndicates and contests. Each listing includes the market's contact information, pay rate, needs and advice from the editors. The electronic edition includes a CD-ROM (Microsoft Windows 3.1 or later) which contains a database of all the markets listed in the book, allowing readers to search for specific markets and genres and add their own notes and updates to the listings. The CD-ROM also includes software for monitoring and recording your submissions, a writer's encyclopedia and how-to articles.
This is the place to start looking if you are a writer looking to market your work. But don't just start firing off articles and queries, especially if you're brand new to the freelancing business. Instead, be sure to read the helpful articles at the front of the book, which give freelancers an overview of the business and contain advice on submitting manuscripts and writing queries. Also be sure to read each market entry carefully (many contain enlightening tips from the editors themselves) and check other information provided in the market's listing -- such as the publication's website or how to request a sample of the publication if you are not a regular reader. The
2000 Writer's Market
is a comprehensive guide for writers, loaded with paying markets and advice, that can lead to freelance success for both writing professionals and beginners. And for cyber-savvy writers, the CD-Rom is simply indispensible. Highly recommended.
---
Children's Writer's Word Book by Alijandra Mogilner
Writer's Digest Books, October, 1999.
Trade Paperback, 354 pages.
ISBN: 0898799511
Ordering information:
Amazon.com.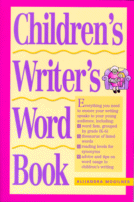 The
Children's Writer's Word Book
is a collection of word lists for use by children's writers. The lists can help writers ensure their writing correctly targets the age group for which they are writing. The lists show the age of readers that can comprehend the words. The book includes both an alphabetical list of words, a list of words for each grade from kindergarten to sixth grade and a thesaurus. With the thesaurus, writers can select a complicated word, such as ghastly, and come up with simpler words for younger readers, such as
scary
(1st Grade), or
frightening
(4th Grade). Writers can also look up easy words to find more complex words for children in higher grade levels.
The
Children's Writer's Word Book
is an excellent collection of words for use in children's books and picture books. Writers will find this a valuable tool for revising and completing books and articles targeted at young children (Grades K-6).
---
Writing Book Reviews
Page One
|
Page Two
Return to Book Reviews Index
---
More from Writers Write
---