Product Reviews
MediaRegister
|
Character Naming Software
MediaRegister Intellectual Property Protection Service
Price:
$4.95 (U.S.) for up to 20kb; $12.95 (U.S.) for up to 5MB
Interface:
Web-based
Owner:
MediaRegister, L.L.C, New Jersey, USA.
One of the worst problems facing writers, artists and programmers today is copyright infringement -- outright theft of their work. The Internet has, unfortunately, compounded this problem. But what technology takes away with one hand, it gives back with the other. Enter MediaRegister, a new method of proving that you created your work first.

U.S. Copyright law provides that copyrights attach at the moment of the creation of the work without registration. But in order to sue someone, you must formally file with the Copyright Office. One of the problems in copyright infringement cases is proof. How do you actually prove who wrote a short story or a song first? What if the opposing party illegally registered your work under his/her name with the Copyright Office? The old method to help prove the work was yours first was to mail the work to yourself in a sealed envelope, so that there would be a United States postmark on the envelope proving at least that you were in possession of the work at the time of the postmark. But sealed envelopes can be tampered with, and mailing yourself copies of your work is tiresome.
MediaRegister is the first fully-automated registration service aimed at every form of intellectual property. The service features time-stamps with the accuracy of redundant public timeservers (such as the United States Naval Observatory atomic clock), a standard web-based interface, and an optional searchable database for submissions. The data is submitted on a secure server, and is immediately backed up and stored. The employees do not access the information; it is entirely automated. And in case you do go to court, MediaRegister will provide (for no extra charge) a document containing a detailed technical explanation of MediaRegister's tamperproof system, and a copy of your registered file, on a custom CD-ROM which will be labeled, with time-stamp information and notarized documentation to be used as evidence in your case.
The service is easy to use, even for the technically-challenged. Standard registration holds up to 5 MB for $12.95 (good for 15 years), and Flash registration is for shorter works up to 5 pages of text, for only $4.95 (good for 5 years). Registration was simple. You just fill out the form, attach the document, program or artwork you want to protect, and hit enter. A convenient pop-up window appears in the upper right hand corner of the screen to explain in detail each step, in case you have a question. The whole process (including Verification) takes under 10 minutes. They also email you to verify your registration.
For writers, designers, artists, scientists and programmers MediaRegister is the best choice available today for protecting their intellectual property. Programmers will especially like the Flash Registration feature, which allows them to register source code in sections, as they develop it. There's no need to wait for a finished program. MediaRegiser is fast, inexpensive and secure. Highly Recommended.
---
Character Naming Software
Price:
$29.95 U.S.
Technical Requirements:
Macintosh and Windows
Company:
December Fifth Creations.
Ordering Information
December Fifth Creations
2060 D Ave Los Arboles #489
Thousand Oaks CA 91362
Phone: (805) 497-4882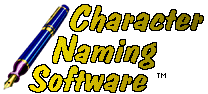 Character Naming Software
by December Fifth Creations is a unique software program that allows writers to find, research and create character names for use in their fiction. The software contains a database of over 28,000 names which can be searched a number ways including by origin, by number of syllables, by the name's meaning, by starting text, by text contained in the name and by themes including All American, biblical, reserved, masculine, mythological, sexy and wealthy. Writers can also research names to find out the special meaning of the name, its origin and other closely-related names. In addition, the software also allows you to create random names from entered words, which the software then scrambles and rearranges into new names. These randomly created names can be very useful for fantasy and science fiction writers. Overall,
Character Naming Software
is a valuable tool for fiction writers with an attractively low price tag.
---
More from Writers Write
---