Of Death and Black Rivers by Ann Woodward Review
Avon Books, February 1998.
Paperback, 210 pages.
ISBN: 038079568X.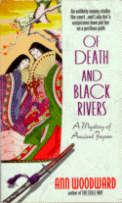 In Japan in the eleventh century, Lady Aoi is attached to the Royal Court, being a lady-in-waiting to the princess. Possessing a keen mind and an inquiring intellect, she is unusual in her society because of her father's insistence on educating her in the masculine style. After just returning to the Imperial Court, Lady Saisho, a timid, retiring creature, runs off with a powerful general known as The Dark Warrior of the North, to be his mistress. But the Dark Warrior is keeping Lady Saisho in little more than a hovel, and members of the court who have disagreed with the general seem to be dying in record numbers. Fearing for the reputation of Lady Saisho and sensing that a menace has invaded the Court, Lady Aoi takes matters into her own hands and decides to investigate -- no mean feat in a society where the women usually hide behind screens when there are men present. As she looks deeper into the general's background some mysterious and sinister facts begin to emerge which could threaten members of the royal house. It is up to Lady Aoi to find a killer and preserve the reputations of all the innocents involved in a grand scheme.
This is the second book in the Lady Aoi series after The Exile Way. Lady Aoi is a decided feminist in a society which treats its upper class women as chattel, while swathing them in fine luxuries. Ann Woodward has done a masterful job of creating a mystery that will appeal to modern readers while providing a host of absolutely fascinating details about life in Ancient Japan. An enthralling book which mystery lovers and history lovers alike won't want to miss.
Ordering information: Amazon.com.
---
More from Writers Write
---