Nonfiction Book Reviews
Chopin in Paris : The Life and Times of the Romantic Composer by Tad Szulc
Scribner, April 1998.
Hardcover, 448 pages.
ISBN: 0679409793.
Ordering information:
Amazon.com.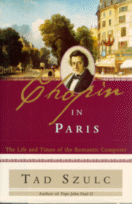 In his new biography,
Chopin in Paris
, Tad Szulc has done a masterful job of putting in one place all of the known biographical material we have left concerning Chopin. As we approach the one hundred fiftieth anniversary of the death of Chopin (October, 1999) we now have, thanks to Mr. Szulc, a very thorough work that elicits the Romantic Age and introduces us to a great many of its fascinating and unforgetable personalities. The book combines an extensive bibliography, a well documented index and a list of all works by the composer. Not an easy or fast book to read,
Chopin in Paris
is nevertheless a complete and meticulously documented account of the incipient years of the Romantic Age.
You will not finish this book in a weekend, nor will you be able to abandon it. Instead, Mr. Szulc pulls you back to an age when people poured out every thought and passion in their letters and diaries. Events took place or did not come to pass through letters. You meet many well known persons through the eyes of their contemporaries, and personalities are summed up not in a book but through phrases of many writers brought together. Here it is: everything you ever wanted to know about Chopin's tuberculosis, method of writing music, composing, his real personality, early childhood, sex life and finally his death. You feel when you have finished this book that you could pick him out in a crowd, know what he would order for dinner, react to his unerring charm, and experience one of his concerts. Just as few struggling piano students ever master very many of Chopin's works, none ever fails to come away without a sense that genius has been met. One does not meet Chopin without a sense of awe and so often an unrequited wish that one could play more of his music. This is a book that all music lovers as well as all lovers of biography must have.
--Sarah Reaves White
---
Modern Antiques for the Table by Sheila Chefetz, photography by Joshua Greene, text by Risa Palazzo
Penguin Studio, August 1998.
Hardcover, 236 pages.
ISBN: 0670875155.
Ordering information:
Amazon.com.
Sheila Chefetz's first book,
Antiques for the Table
was so popular that she teamed with renowned photographer Joshua Greene to continue the journey into the world of beautiful table settings into the twentieth century. The result is
Modern Antiques for the Table
, which introduces collectors to the fine china, glass, and silver of 1890 to 1940, in an overview format of four design movements: Art Nouveau, Arts and Crafts, Beaux Arts and Art Deco. The backdrops for the fabulous table settings lushly photographed by Joshua Greene range from the famous Greenbrier resort, to Edsel Ford's Moderne bar to New Year's at Matilda Dodge Wilson's mansion. A beautiful book, excellently executed,
Modern Antiques for the Table
provides wonderful inspiration for anyone who entertains or loves to collect fine china, glass and silver.
---
Return to Book Reviews Index
---
More from Writers Write