Nonfiction Book Reviews
Page Two of Two
The Reading Group Handbook by Rachel W. Jacobsohn
Hyperion, April 1998.
Trade Paperback, 248 pages.
ISBN: 0786883243
Ordering information:
Amazon.com.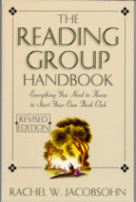 Targeted at those who are interested in starting their own reading groups, this book is packed with information from how to get going to suggested reading lists. The author, Rachel W. Jacobsen, has been involved with starting reading groups for over twenty years and has written everything she has learned down in this guide The book provides answers to every situation or nuance you will encounter in establishing a reading group. Coverage includes Oprah's book group, choosing members, the costs involved, rules of order, food served (including some recipes), starting discussion and discussion topics and what to read (including reading lists and possible areas upon which to focus your group). The appendix section in the book includes Pulitzer prize winners, selected reading lists by categories, syllabi from other reading groups, and sources for reviews, criticism and author information.
The Reading Group Handbook is smartly written and full of tips and suggestions to help you to start a book club that will be organized and entertaining. This is the book to buy if you are planning to start your own book club.
---
The Ultimate Guide to Student Contests Grades K-6 by Scott Pendleton
Walker Books, Oct., 1997.
Trade Paperback, 192 pages.
ISBN: 0802775136.
Ordering information:
Amazon.com.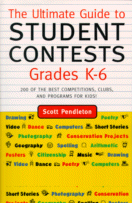 The Ultimate Guide to Student Contests
by Scott Pendleton will be an excellent addition to the professional library of any educator or parent. The book covers contests in all subject areas from art, dance and music to computers, mathematics and science. Prizes range from public recognition to monetary compensation and scholarships. From the view of the professional teacher, this handy and practical volume is the answer to what to do with those talented students who have effortlessly finished an entire week's assignments the first two days of the week and are clamoring for new road maps for their hungry minds. Ignore this type of student at your peril, for such minds will not turn off and very well may invent something not to your liking. So now, while you are working with the struggling remainder of the class, you can rest in the knowledge that you have set these gifted young minds off in the right direction.
The Ultimate Guide to Student Contests
is well-researched and organized by subject so that you can match the contest to the student. Do you have a young Charlotte or Emily Bronte who sits in the corner writing novels and illustrating them as she goes along? Here is the reference guide for you. Do you have a youngster who doesn't whine for computer time for clip art for his report because it is so easy and pleasurable just to pick up a pencil and sketch an object? Here is the book that will help your young daVinci obtain early recognition.
Most educators love and collect good reference books. This one should be added to your arsenal as you travel through life combating ignorance in all its forms. For that excellent parent who is taking the time to raise important persons who need early recognition, this book will offer you a wealth of information.
--Sarah Reaves White
---
The Unemotional Investor by Robert Sheard
Simon & Schuster, May 1998.
Hardcover, 1066 pages.
ISBN: 0684845903.
Ordering information:
Amazon.com.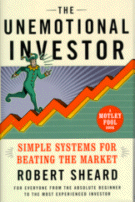 One rule in investing that is not often followed is to avoid getting emotionally involved with your investments. This book by Robert Sheard, author and editor for the well-known Motley Fool investment website, provides a mechanical investment model that bypasses the emotional elements of investing that lead you to carry a stock too long or sell a stock too soon. The strategies introduced in the book allow you to choose stocks which follow specific patterns. The book explains how to follow these patterns and why they are effective. The explanations and advice in the book are enhanced with charts, formulas and tables that complement the writing.
The Unemotional Investor
provides a common-sense approach to stock investing that can be easily followed by investors of any experience level. Written in the Motley Fool's informative, entertaining and irreverent style, this is one is a must-purchase for your investment reference shelf.
---
Non-Fiction Reviews
Page One

Return to Book Reviews Index




---
More from Writers Write