Nonfiction Book Reviews
Page One of Two
Great Pies and Tarts by Carole Walter
Clarkson Potter, March 1998.
Hardcover, 487 pages.
ISBN: 051770398X.
Ordering information:
Amazon.com.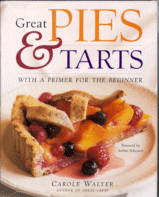 Award-winning cookbook author Carole Walter shares her vast knowledge of pies and tarts with her latest book. With easy to follow explanations and instructions Walters takes the mystery out of making fantastic pastry crusts of all kinds. The Primer sets the stage for creating pies and tarts by describing the two basic kinds of doughs, then follows up with recipes which illustrate the crucial techniques which must be mastered in order to have a full repertoire of dishes. Also included are the most commonly asked questions that Walters has fielded from her students in her over 25 years of cooking and teaching. The book covers both sweet and savory pies and tarts, with over 150 recipes ranging from old favorites such as Apple Pie and Lemon Chess Pie to modern recipes such as Mango Tart with Blackberries and low-fat Chocolate Velvet Pie with Sliced Strawberries. With full color photos and thorough instructions, this is one of the most comprehensive works on the subject. A must-have for every dessert cook.
---
Krystine's Healthy Gourmet Bakery Cookbook by Krystine Crowell
HPBooks, March 1998.
Hardcover, 226 pages.
ISBN: 1557882827.
Ordering information:
Amazon.com.
Baker to the rich and famous Krystine Crowell shares her secrets for making delicious and healthy desserts in this fabulous new cookbook. For years her "bakery to the stars" in Brentwood, California has been frequented by some of Hollywood's biggest stars who must watch their figures, but still crave those delicious desserts. Thanks to Krystine, they can have both. With recipes for breads, muffins, buns, scones, cookies, bars, pies, tarts, bombs, filling frostings and glazes, this is one book that the diet conscious cook will keep close at hand in the kitchen. The book is not only for those who are watching their figures, however. The delicious low-fat recipes are a boon for those having to cook for heart, stroke and diabetic patients who get bored with the standard low-fat, low-salt fare. The recipes are easy to follow and Krystine gives tips for each recipe. Calorie, carbohydrate, protein, fat, saturated fat, cholesterol and sodium counts are also given for each recipe. Guilt free gourmet treats -- what more could you ask for?
---
Non-Fiction Reviews
Page Two

Return to Book Reviews Index




---
More from Writers Write