Nonfiction Book Reviews
Page Three of Three
A Thyme to Remember: Generations of Recipes Handed Down for Today by Dallas County Medical Society Alliance, Edited by Sarah Hardin and Shannon Callewart
Favorite Recipes Press, January 1999.
Hardcover, 259 pages.
ISBN: 0966489500.
Ordering information:
Price: $22.00
Contact: The Aldredge House
5500 Swiss Avenue
Dallas, Texas 75214
Phone: 214-823-9272 Proceeds benefit the DCMSA's charitable projects.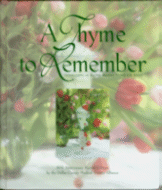 The Dallas County Medical Society Alliance was founded in 1917 to provide charitable and educational assistance to the Dallas community. This cookbook is a Special Edition to celebrate the 80th anniversary of the organization, one of the oldest medical support organizations in the U.S., which helps the community through projects such as Health Check, Latino Wellness Fair, Infant Immunization Programs and the Edith Cavell Nursing Scholarships. The cookbook features recipes handed down from the families of members of the organization, with quotes throughout the book from local doctors about why they chose healing as a profession, as well as members' entertaining anecdotes about the recipes and their origins. The recipes are organized by type, with listings for: Appetizers and Beverages, Salads, Hearty Breads and Soups, Sweet Breads and Brunch, main Entrees, Vegetables, Cakes, Cookies and Pies, Decadent Desserts and the Final Touch which includes full nutritional information for each recipe: calories, fat grams, percentage of calories from fat, protein grams, carbohydrate grams, cholesterol, sodium and fiber content. The recipes feature both low-fat dishes, such as Tuscan Tomato Bruschetta, Fusilli Salad with Sun-Dried Tomatoes and Peas, Chinese Risotto With Shiitake Mushrooms, and Low-Fat Flan, as well as such sinfully delicious items as Beef au Poivre, Creme Brûlée, and Kahlua Brownie Torte with Kahlua Frosting. With gorgeous photographs and table designs by talented floral designer Judy Blackmon,
A Thyme to Remember
is a beautiful and yet practical addition to any cook's kitchen, and is perfect for gift-giving.
---
Ultimate Bread by Eric Treuille and Ursula Ferrigno
DK, September 1998.
Hardcover, 168 pages.
ISBN: 0789435136.
Ordering information:
Amazon.com.
French food stylist, chef and program director at the Books for Cooks Cookery School in London, Eric Treuille and Italian cooking teacher and caterer Ursula Ferrigno have teamed up to produce the ultimate book on breadmaking. The book starts with the fundamentals of breadmaking covering essential ingredients and techniques with easy to follow text and the stunning photography that is the hallmark of all DK books. The different types of flour and their uses, the necessary ingredients, the types of equipment needed and the easy to learn techniques are all described in full detail. But the heart of the book is the 100 mouthwatering recipes which cover everything from french sourdough bread (including how to make the starter), challah, Hungarian Potato Bread, a variety of delicious Italian stuffed breads, to brioche and parker house rolls. A must-have for cooks who have always wanted to try their hands at breadmaking and for experienced breadmakers looking for some great new recipes.
---
What Would Jefferson Say by Garrett Ward Sheldon
Perigee, October 1998.
Paperback, 127 pages.
ISBN: 0399524487.
Ordering information:
Amazon.com.
Professor Sheldon has given us, the political heirs of the towering mind of Thomas Jefferson, a timely and reassuring work. The author of an earlier scholarly work on the political philosophy of Thomas Jefferson as well as a widely appreciated lecturer on Jeffersonian democracy, Dr. Sheldon has presented us with a well-organized and delightfully conversational book on how our third president would view the issues and personalities that parade across the political stage in these waning years of the twentieth century. All aspects of the running of a powerful nation for not only the benefit of its citizens but of the world at large are touched on and given an historical perspective. Beginning with the Balanced Federal Budget in the first chapter, the reader may savor subjects of intense public interest such as family values, women, manners, religion, morality, and political leadership. While some may say that the viewpoints of even the most enlightened of eighteenth century minds can hardly be much of a guide for these perplexing times, Professor Sheldon guides us through the principles and the personalities with real knowledge and humor.
As Americans on all levels and in all areas struggle with the torturous constitutional issues that have come to take on a disproportionate amount of the national mental energy, we look for guidance from somewhere else than in the pronouncements of national commentators. Will a conviction for impeachment shatter the nation's focus on the really important issues of the day? Or are we going to sidestep the issue with some kind of compromise that will somehow weaken the very Constitution itself? Are the issues real or are they merely created by implacable political enemies? The American people, always suspicious of politicians, are nervous and troubled.
It will give the reader some sense of relief to find out in the section on family values that Jefferson had to face a scaled down version of the same predicament that faced President William Jefferson Clinton earlier this year. The way he handled the situation was both dignified and public, but it failed to silence political enemies. Would Thomas Jefferson have found pop star Madonna entertaining? Read what he wrote about "brazen" European women as compared to American women. The unfolding story of Thomas Jefferson and the women in his life continues to fascinate all of us. Yet we are still unsure as to how much these questions should enter into the governing of a nation. Clearly some of the issues are of supreme importance, while others appear to be more guided by human frailty.
If you are concerned about the looming issues of Social Security and Medicare, you will find that Thomas Jefferson had very strong ideas on these important issues. While these issues were not so clearly defined as government programs of today, Mr. Jefferson felt that caring for those who were helpless was an important function of the nation. He also felt that such functions would be handled much more inexpensively and honestly by the states because those who were administering the programs could be watched more closely by the citizens. Whatever the reader's personal attitude may be on these issues, it is refreshing and enlightening to read what Thomas Jefferson said about them.
Reading the writings of those who forged our system of government is always surprising. The sturdy yet graceful sentence constructions of eighteenth century writers speak well to the twentieth century reader. They are refreshingly contemporary, and can be compared to an opened window, full of fresh, clean air. Thomas Jefferson comes alive in these selections, and cannot help but enjoy meeting him.
After having read
What Would Jefferson Say?
, my advice to the frustrated and perplexed American citizen is to obtain a copy of this book before next weekend. It will clear the mind, lighten the mental load, and supply you with some delightful insights into what we ought to do.
--Sarah Reaves White
---
Nonfiction Page One
|
Nonfiction Page Two
|
Nonfiction Page Three
Return to Book Reviews Index
---
More from Writers Write
---