Nonfiction Book Reviews
Page One of Three
Bed and Breakfast USA 1999 by Peggy Ackerman
Plume, January 1999.
Trade Paperback, 593 pages.
ISBN: 0452280451.
Ordering information:
Amazon.com.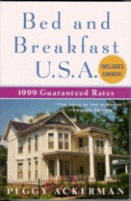 This reference for travelers contains listings of numerous Bed & Breakfasts in the U.S. and Canada. In the book, Bed and Breakfasts, also known as B&Bs, are defined as "private residences where the owners rent spare bedrooms to travelers, or small, family-operated inns offering a special kind of warm, personal hospitality." Each B&B listing contains contact information (including emails & website addresses), rates for 1999, location, number of rooms and baths, the best time to call, and the B&B's policies on children, pets, smoking and social drinking. Listings also include a concise description of the B&B which includes interesting facts about the region which make it a unique place to stay. Occasional drawings are also present near some of the B&B listings. In addition the comprehensive collection of B&B listings, the book also provides an article on starting your own Bed & Breakfast, some favorite B&B recipes, a list of wheelchair accessible Bed & Breakfasts and information on Canadian and U.S. tourist offices. An excellent traveling companion for those who prefer the down-home comfort and frequent cost savings of B&Bs over the large hotel scene.
---
Confessions of a Window Dresser by Simon Doonan
Callaway, November 1998.
Hardcover, 239 pages.
ISBN: 0670882828.
Ordering information:
Amazon.com.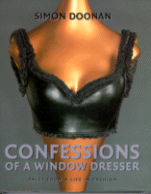 Simon Doonan, the design genius behind the outrageous and always stylish window displays of Barney's in New York, offers a feast for the eye and soul in this hilarious, behind the scenes gossip fest of his time as stylemaker in New York. Filled with personal anecdotes about the celebrities who agreed to be featured in his windows (which oftentimes bordered on performance art for the large crowds gathered around them) from Madonna to Sophia Loren, the book also gives an insider's view of Barney's rise and ultimate fall into Chapter 11. While never lapsing into pathos, Doonan describes his bizarre childhood in Reading, London with a houseful of near-lunatics and his progression from the glam rock scene of swinging London to becoming Vice President of Barney's, in charge of all ad campaigns and style matters. His self-deprecating style and chatty reminiscences make the book a fast read -- like sitting down to dish the dirt with a good friend. A must-read for style, retail and fashion aficionados.
---
Nonfiction Page One |
Nonfiction Page Two
|
Nonfiction Page Three
Return to Book Reviews Index
---
More from Writers Write