Nonfiction Book Reviews
Page Two of Three
The 48 Laws of Power by Robert Greene
Viking, September 1998.
Hardcover, 452 pages.
ISBN: 0670881465.
Ordering information:
Amazon.com.
This unique book provides historical anecdotes and facts and combines them with a collection of 48 laws of power to teach people mastery of the game of power and the art of self-control and conquest. The 48 laws of power in the book are derived from the writings of people well-known throughout history including Sun-tzu, Clausewitz, Bismarck, Talleyrand, Castiglione, Casanova and Machiavelli. The 48 laws include the statements: "Make your accomplishments Seem effortless," "Play to people's fantasies," "Crush your enemy totally", "Conceal your intentions" and "Think as you like but behave like others." A chapter is devoted to each law and gives an explanation of the law, historical accounts that show observance or transgression of the law and famous quotes that illustrate the law.
The 48 Laws of Power
is a great aide to improving your leadership skills and for sharpening your skills at divining what your opponents are thinking. In addition, the book is also a unique and entertaining reference on the strengths and weaknesses of famous leaders and conquerors.
---
Nathalie Dupree's Comfortable Entertaining at Home by Nathalie Dupree
Viking, September 1998.
Hardcover, 307 pages.
ISBN: 0670878855.
Ordering information:
Amazon.com.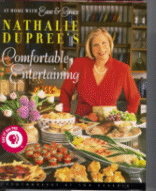 Popular Southern cook and television show host Nathalie Dupree has a firm rule for entertaining: it doesn't have to be perfect. And that is the theme of her beautiful and helpful new book which focuses on all kinds of entertaining -- from burgers in the backyard to a formal dinner party. Published to coincide with her new PBS series "Nathalie Dupree's Comfortable Entertaining" this is one cookbook with the goal of putting the host or hostess at ease. This thorough entertaining handbook contains over 250 recipes and 26 full menus for holiday classics, brunches, luncheons, breakfasts, dinners and even a tortilla party that is sure to satisfy even the most picky guest. Her personal entertaining disaster stories are hilarious and she imparts what she has learned over the years to help you avoid the most common entertaining faux pas. A valuable addition to any host/hostess' cookbook collection.
---
Nonfiction Page One
|
Nonfiction Page Three
Return to Book Reviews Index
---
More from Writers Write