Nonfiction Book Reviews
Page One of Three
Art: A World History
DK Publishing, October 1998.
Hardcoer, 720 pages.
ISBN: 0789423820.
Ordering information:
Amazon.com.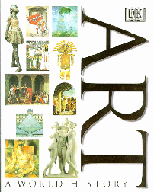 Art: A World History
is a beautifully illustrated guide to the history of art from prehistoric cave paintings to the numerous forms of modern art, including computer graphics. Through beautiful full-color illustrations and concise descriptive text the book provides information on numerous artistic styles and art movements including prehistoric art, Romanesque, Persian & Islamic art, Neoclassic, Romanticism, Orientalism, Realism, Impressionism, Post-impressionism, Expressionism, Avant-garde, Postmodernism, African arts, sculpture and Modern Art. Each section combines color illustrations and photographs with descriptive text by art historians and experts. Timelines and analysis of individual art pieces can also be found in each section. Also included in the book is a comprehensive glossary, bibliography and a thorough index.
Art: A World History
is an excellent, well-designed, and extremely thorough overall reference guide to world art and art history. A must-have for art lovers, art historians and anyone wishing to know more about art's role in our civilization.
---
DK Illustrated Oxford Dictionary
DK Publishing, September 1998.
Hardcover, 1008 pages.
ISBN: 0789435578.
Ordering information:
Amazon.com.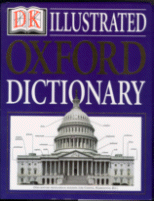 The
DK Illustrated Oxford Dictionary
combines full-color illustration with a collection of 180,000 word definitions of English words in a beautiful, gigantic volume. The color graphics and labeled diagrams help liven up the dictionary, making it a fun experience to flip through the pages to see the pictures of anteaters, crystals, football gear, toadstools, woodwind instruments and countless others. The definitions are concise and descriptive. The dictionary also contains a reference section with information on countries of the world, astronomy, measurements, taxonomy, geographical time periods, grammar and style, symbols and abbreviations. A valuable and attractive addition to your reference shelf, the
DK Illustrated Oxford Dictionary
is a must-have for anyone with a student in the house, or who does research on a regular basis.
---
Nonfiction Page Two
|
Nonfiction Page Three
Return to Book Reviews Index
---
More from Writers Write