Nonfiction Book Reviews
Page One of Four
DK Ultimate Vegetarian Cookbook by Paul Gayler
DK Publishing, May 1999.
Hardcover, 168 pages.
ISBN: 0789441845.
Ordering information:
Amazon.com.
Vegetarians and carnivores alike will have plenty of choices with this superb vegetarian cookbook. The book includes information on the equipment needed to cook vegetables and step-by-step procedures describing cooking methods and techniques such as: cutting vegetables, preparing and chopping vegetables, seeding tomatoes and stir-frying, broiling, grilling and sautéing vegetables. Instruction on how to make pastry and pasta is also provided. Topics covered include: appetizers, breakfast foods, soups, tarts, pies, pasta, stews, stir-fries, rice, stuffed vegetables and desserts. Some escpecially good recipes found in the book include: grilled asparagus, roasted red pepper and zhug soup, potato turnovers, linguine with portobello mushrooms, Hungarian stew, stuffed roasted onions, potato brandade, ultimate vegetable salad, saffron peaches, butternut soufflé with blackberries, winter trifle, grilled vegetable pita pizza and club sandwiches. Each recipe includes step-by-step cooking instructions, ingredients and nutritional information. Most recipe listings also include full-color, mouth-watering photographs. The
Ultimate Vegetarian Cookbook
certainly lives up to its title and has plenty to offer both serious vegetarian cooks and those simply looking to turn their ordinary carrots, peas, spinach or squash into something delicious.
---
First Meals by Annabel Karmel
DK Publishing, April 1999.
Hardcover, 144 pages.
ISBN: 0789441772.
Ordering information:
Amazon.com.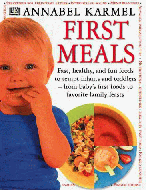 If you have always felt a little sorry for babies for having to eat baby food, but felt equally discouraged at the prospect of cooking for such tiny and vulnerable human beings, this is the book for you. Annabel Karmel, who is a Cordon Bleu trained cook, is an expert on cooking for children. A mother of a young family herself, she in effect has a living laboratory with which to work.
First Meals
is organized by the age grouping and development of young children, so that the beginning cook can easily become accustomed to cooking for young palates and learn about appropriate nutrition at the same time. Illustrated with DK Publishing's bright and explicit photographs,
First Meals
makes the reader want to rush into the kitchen to try some of these inviting and nutritious combinations. Who could resist vegetable croquettes pictured on page 94? The recipe is laid out in a new but easy to follow form, and the finished product would tempt everyone in the family. The absolute fun of the creations on page 103 with the sunny picture of the savory dip set between the Halloween face of the Shepherd's Pie and the amusing surprise of a mock fried egg that is actually a dessert made of vanilla yogurt and an apricot, will tempt the most finicky to taste. Mini-baked potatoes on page 107 look like small sailboats, but just reading the imaginative recipes will lure anyone into the kitchen, regardless of the age of the family member.
First Meals
belongs in every family's kitchen, because it will bring much joy and teach the real fun of beginning life with delicious and healthy foods. Preparing meals will become a shared adventure in every family's favorite place, the kitchen. Annabel Karmel deserves the praise and gratitude of all who fill that special role of cooking for a family. Buy a copy for your own library and then give it as a gift. Highly recommended.
--Sarah Reaves White
---
Nonfiction Reviews
Page One |
Page Two
|
Page Three
|
Page Four
Return to Book Reviews Index
---
More from Writers Write